Working at Height: Rope Access Techniques
This Guideline covers the equipment and techniques required to protect those working at or near exposed drops.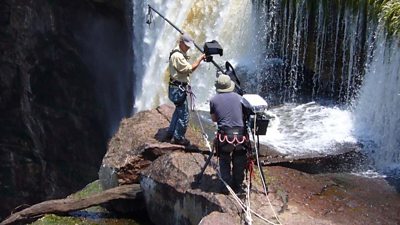 This Guideline covers the equipment and techniques required to protect those working at or near exposed drops.
Commonly referred to as 'rope access', it covers use of ropes, lanyards and harnesses to secure persons to fixed or travelling anchor points e.g. at an edge, climbing a tree or fixed vertical ladder, up in a cherry picker cage. Whilst there may be some similarities in their equipment and techniques, it does not cover activities such as rock climbing, caving, mountaineering or other adventure activities (see our separate Guide), nor does it cover wire work e.g. flying ballet or stunts.
What Can Go Wrong?
Falls from height – due to poor technique, equipment or anchor failure
Struck by falling items – when dropped or knocked off surfaces
Manual handling injury – when climbing ropes or structures
Rope burns – ropes or webbing material rubbing against exposed skin
Trapping injuries / cuts – clothing, fingers or hair caught in moving or toothed equipment
Stuck at height – inadequate rescue capabilities, possibly resulting in suspension syncope (condition associated with remaining motionless in a harness).
Legal/BBC Requirements
Ensure work at height is properly planned and organised
Those involved in work at height are competent and willing to do so
Risks from work at height are assessed and appropriate work equipment is selected and used
The risks of working on or near fragile surfaces are properly managed
Equipment used for work at height meets appropriate safety standards, is properly stored and maintained.
Control Measures
Planning your work at height
Decide the most suitable approach for protecting the access required - in order of preference:
Avoid work at height - for example by using jibs or drones to get high vantage points, using filming techniques to cheat exposure, provide suitable edge protection or simply keep everyone back from the edge.
Prevent a fall – using rope access equipment and techniques to prevent people getting close to an unprotected drop ('work restraint') or to hold them in suspension above one ('abseiling', 'work positioning')
Mitigate consequences of a fall - use a harness, energy absorbing lanyard and anchor point to minimise the risks and consequences of a fall.
In all situations where work at height can't be avoided, you should:
Appoint competent person to plan, rig and supervise the access – competence required dependent on the location and nature of the rigging required - see 'Ropes Rigging' in Useful Documents and 'Ropes Riggers' in Related Topics). If in doubt, speak with your Safety Adviser
Check the competent person holds adequate public, professional and, where they supply rigging kit and equipment, product liability insurance (confirm levels required with BBC Insurance)
Obtain a risk assessment from your competent person – they will likely need to recce the location to determine the best means of access, availability of anchors, etc. Check their risk assessment both meets your needs and complies with this Guide
Ensure your Supervisor's safety role won't be compromised by other tasks e.g. operating a camera.
Check the competence and fitness of those working at height – your Supervisor will advise on what is required, ranging from prior training / assessment on approved courses, to simple instruction on location. Fitness to participate forms are commonly used to confirm the state of health of contributors as climbing / ascending ropes is physically demanding
Check all work at height equipment is suitable for purpose - your Supervisor should confirm that the kit is CE marked with certificates of conformance provided (prevents risk of using counterfeit kit)(see Safety Short guidance in Useful Documents)
Check all work at height kit is properly maintained – it should be uniquely identifiable and subject to routine thorough examination by a competent person at least once every 6 months, with records kept
Control access to the work location – if necessary use barriers / signs
Prevent items falling onto people – loose items (including cameras, mics, batteries, tripods, etc.) should either be removed from the worksite, kept in zipped pockets / bags or secured on lanyards
Have a rescue plan – should someone become injured or stuck at height, there must be the means for getting them down to safety quickly and this should be described in the risk assessment.
Work Restraint
Technique used to prevent a person getting into a position where they could fall e.g. at cliff or roof edge, in a cherry picker cage. These techniques are not appropriate if at any time you could be in suspension in your harness.
Engage a competent person to provide a safe system of work – a Supervisor may not need to be present on location if the access is simple and repeatable, and those involved are familiar with the safe system. 
Avoid surfaces which are fragile, loose or steeply sloping
A sit harness (or in some cases a webbed belt) can be used to secure the person to your anchor point
Only one point of attachment to your anchor is needed
An adjustable lanyard provides greater flexibility for accurate positioning but beware the arc of movement from the anchor point allowing you to reach an exposed drop
Helmets may not need to be worn unless they are required for other location risks (i.e. cherry picker operation)
Ensure the anchor point is sound – unless you are using unquestionably strong structures e.g. mature trees, steel girders, maintained eyebolt anchors, etc., a competent person may be needed to assess anchor point suitability and strength.
Work Positioning
Technique used to get persons in suspension on ropes into locations which are difficult to access by other means e.g. abseiling, climbing on cliff faces, down caves or up in trees.
Engage a competent supervisor - to plan, assess, rig and supervise all work positioning techniques
Wear a suitable harness – this should be a padded full body harness for rope access tasks, though sit harnesses can be used for activities such as abseiling, climbing and tree work. Padding provides comfort, though for prolonged periods in suspension, such as a cameramen hanging on a cliff face, consider use of a boatswain's chair
Maintain two points of attachment to your harness - each of which need to be independently anchored. Single rope technique (SRT) may be used but only where the risk has been justified by a competent person
Wear a climbing helmet (with chinstrap) at all times. You may attach a mini-camera to it provided you do not compromise its structural integrity and the user is made aware of, and agrees to, any additional risks. See 'Safety or Helmet-cams' in Related Topics
Consider effects of the weather – high winds can cause ropes to sway and catch on obstructions, making access / rescue difficult
Have a rescue plan in place in case anyone becomes injured / stuck in suspension.
Fall Arrest
Technique of last resort used to minimise the distance and consequences of any fall where need for free movement, for example, when accessing incomplete structures or climbing fixed vertical ladders, preclude other safer access options
Engage a competent person to provide a safe system of work, which must include a rescue plan - they may not need to be on location to supervise access. If in doubt, speak with your Safety Adviser
Wear a suitable full body harness
Use a suitable means for arresting any fall – there are various means available to achieve this, but all must be connected to either the dorsal or chest attachment points of the harness to maintain the body upright after the fall. Twin-tail lanyards can be used, depending on whether or not you need to change your anchor point. Lanyard length must be no more than 2m, preferably much less
Only one point of attachment between you and your anchor point is needed – this anchor point must be strong enough to withstand the high shock loads involved
Keep your anchor point above your harness attachment point – this will reduce the distance of the fall (and therefore likelihood of hitting something), and also minimise the shock to the body. 
Wear a climbing helmet (with chinstrap) at all times. You may attach a mini-camera to it provided you do not compromise its structural integrity and the user is made aware of, and agrees to, any additional risks (see Helmet-Cam Report in Recommended Links). If in doubt, speak with your Safety Adviser
Division Specific Issues
No division specific issues. 
FAQs/Did You Know?
TV Safety Equipment stores hold a number of harnesses and other work at height equipment
Further rope access guidance and advice can be found on the NHU website, including insurance requirements for rope access supervisors. (BBC Staff Only)
Useful documents
Recommended links
Tools, guides and contacts
About this site
This site describes what the BBC does in relation to managing its health, safety and security risks and is intended for those who work directly for the BBC.
It is not intended to provide instruction or guidance on how third parties should manage their risks. The BBC cannot be held liable for how this information is interpreted or used by third parties, nor provide any assurance that adopting it would provide any measure of legal compliance. More information
Some links on this site are only accessible when connected to the BBC network