Display Screen Equipment (DSE)
A safety guide to Display Screen Equipment (DSE) use at work, including advice on completing assessments for various types of workstation and how to address any health issues.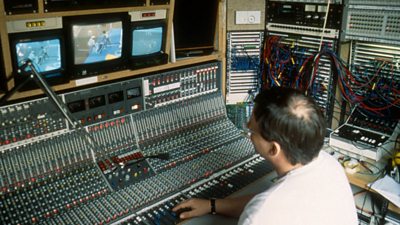 Updated: 16 February 2021
Whilst aimed at standard DSE workstations (PC's, laptops), tablets and smart phones are increasingly part of our work life and similar precautionary measures may need to be taken to protect your health when using these devices. There are also useful links here to DSE training and more information about the Eye Sight Test Expenses policy and the Eye Test Expenses Claim Form.
What Can Go Wrong?
If you are working with computers for extended periods with poor posture and inadequate breaks you may experience aches and pains. If left untreated these can develop into long term health problems and are more difficult to resolve.
Legal/BBC Requirements
The Health and Safety (Display Screen Equipment) Regulations 1992.
Control Measures
General Controls
Watch our short film - Display Screen Equipment (DSE) Online course.
Apply the basic principles below as far as you are able in the circumstances.
If you have any questions, concerns or issues – please call the Workstation and Physiotherapy Helpline to speak to an expert.
Seek to resolve any problems and make your manager aware of ongoing issues.
Basic Principles
Manage the time you spend continually undertaking DSE work by taking short frequent screen breaks (5-10 mins every hour). This might be as simple as making a drink. Make sure you take your hands away from the keyboard or the mouse (micro breaks) when you are not using them.
Ideally you should use an adjustable chair and know how to use it. Where that's not available, e.g. at home or in a cafe, you might need to try different chairs to find one suitable, or use a cushion or similar to adjust your position.
A height adjustable desk is not necessary but if that is provided use that to achieve a comfortable position.
Position your screen about an arm's length from you and with the top of the screen level with your eyes. You can use an adjustable monitor arm or a laptop stand to help with that.
Make sure the screen image is clear and flicker free and adjust the font so you can read it. Avoid glare on the screen or keyboard keys.
Use a separate mouse and keyboard. Position them where they can be easily reached and can rest some of your forearm on the desk.
Footrests enable you to adjust your chair higher and still have a firm base on which to place your feet. If your legs are dangling and not supported then this can lead to strains to the back muscles.
Ensure there's enough room under your desk for your legs and avoid storing too much under there that can restrict your movement.
Always have a quick look at your laptop and power cables for signs of damage before you plug them in.
If you are mobile and carrying laptops use a rucksack with two shoulder straps and a waist band or a bag with wheels.
Try to give yourself sufficient working room both on and under the desk and keep those clutter free.
Manage the time you spend in situations where you can't readily apply some of these other principles. For example take 2hrs as a rule of thumb limit for café and soft seating working with your laptop.
Standard workstations
In a lot of our areas, the BBC has procured standard workstations and designed the spaces they occupy for those. Where there is a standard work station an assessment of risk has been carried out during design and there is no need for you to record an individual assessment UNLESS you experience problems that you cannot readily resolve, in which case call the Workstation and Physiotherapy Helpline and they will help. You should, however, still apply the general principles above.
Flexible working
The rise of flexible working - many more people are working flexibly these days, either hot-desking at work, in cafés, or working from home. If not set-up correctly, these 'places of work' can have significant implications to your health and posture, especially if maintained over prolonged periods
Homeworking - team members who wish to work from home, or other place remote from the BBC, on a permanent basis need to ensure that appropriate measures are taken to protect their health during DSE work. This includes seeking appropriate approval and developing a homeworking assessment – 'Flexible Working Policy' (see Recommended Links) describes the process
Other flexible working – for shorter periods, up to a few hours or so, the principles of control described in the section above should be applied so far as possible. Simple measures can really help – for example, if you are doing a lot of typing on a tablet, consider a separate keyboard and adjust the position and angle of the tablet so that you are not 'hunching' over it; and take regular breaks to move around
Making changes - most people will be able to adjust their workstation to meet their needs; make the time and effort to do this.
Specialist DSE set-ups (inc. edit suites and galleries and trucks)
Some work requires multiple screens or unusual set-ups. The principles above will apply to these but a specific risk assessment should have been undertaken during design.
Workstation and Physiotherapy Helpline
The purpose of the Workstation and Physiotherapy Helpline is to allow the employee to quickly source an effective solution for more minor musculoskeletal problems that do not necessarily need to go through a Management Referral process. This supports research that shows early intervention for musculoskeletal disorders improves clinical outcomes and reduces the duration of the injury.
What you can get from this service:
Direct access to physiotherapy for simple musculoskeletal problems
Advice on how to access ergonomic and workstation services
Advice and booking of a workstation assessment
Sign-posting into other services
Employees can call the Helpline direct themselves by phoning BBC HR on 0477 (0370 024 3477) Option 6 then Option 2.
If you experience problems
If there are issues with the computer hardware such as the keyboard, mouse, or monitor then contact your local ITC.
If there are issues or problems with the desk, chair, environment, lighting, heating etc. then contact BBC Workplace Helpdesk on the numbers below and be sure to get a work reference number.
London, English Regions, Scotland and Northern Ireland: x0490 or 0808 1688 962
Wales: *6000 for the Wales Workplace Helpdesk
If you have aches and pains then you can either contact the Workstation and Physiotherapy Helpline. They can help arrange an on-site workstation assessment to see how you're working and give advice on your set-up, or offer you some physiotherapy treatment sessions.
If you have persistent pain and/or Workplace have been unable to resolve your environmental issues then speak to your manager about making a management referral through to Occupational Health. Anybody with a disability can be referred straight through to BBC Access Services.
If you have assistive technology requirements then speak to: the IT Helpdesk (phone internal 0440 / external 0845 305 0440) or the Access services unit.
Standard equipment such as footrests, document holders, pen and tablets (if not available locally) can be ordered directly by managers through Quickorder.
Adaptive equipment such as specialist mice and keyboards can now also be ordered direct through QuickOrder. Specialist chairs can also be ordered through thru this procurement page but there must first be an Occupational Health assessment. Please refer to the BBC Procurement page BuyBookOrder: DSE Occupational Equipment for more information and details on what equipment is available.
For Managers
As a Manager (or Producer if on a Production), you are responsible for ensuring that staff are watching the short DSE video, applying the basic principles and performing an assessment if they are not using standard equipment.
If staff are reporting pain or discomfort, you can refer them to Occupational Health for assessment and advice on their workstation and whether and adjustments are needed. This may include physiotherapy treatment where a short course (5 sessions) is likely to resolve the problem.
Once an assessment has been completed, Occupational Health will send you a report outlining their recommendations. It is up to you to ensure these recommendations are put in place and any additional equipment is ordered.  Most ergonomic equipment can now be ordered through QuickOrder. 
There's a guide to the left of the equipment available. Contact your local ITC or BBC Safety ext 0464 or +44 37 0411 0464 or safety@bbc.co.uk for additional support.
Division Specific Issues
BBC Buildings
The BBC has procured standard workstations and these are in place in the majority of our buildings. An assessment of risk has been carried out during design of these areas.
FAQs/Did You Know? 
There is no evidence that DSE use damages eyesight though you can experience eye strain and headaches with extended use particularly with poor lighting and posture.
You are entitled to an eyesight test if you are a regular display screen user and glasses if you require them solely for the display screen distance and normal glasses won't do. Check out the expenses policy for more information on this process and the form that you need to complete.
The Eye Test Expenses Claim Form can be used to reclaim certain eye test expenses, in line with the BBC policy, it's available in the Useful Documents.
Useful documents
Recommended links
Skin and eyesight risk topics
Tools, guides and contacts
Events guidance - key links:
Health topics - key links:
BBC High Risk - key links:
BBC Journalism - key links:
BBC Productions - key links:
BBC Security - key links:
About this site
This site describes what the BBC does in relation to managing its health, safety and security risks and is intended for those who work directly for the BBC.
It is not intended to provide instruction or guidance on how third parties should manage their risks. The BBC cannot be held liable for how this information is interpreted or used by third parties, nor provide any assurance that adopting it would provide any measure of legal compliance. More information
Some links on this site are only accessible when connected to the BBC network