Risk Assessment
This Safety Guideline lists the key measures for those wishing to complete a safety risk assessment.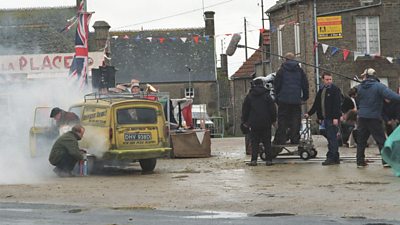 Those needing more information on risk assessment can read our Safety Guidance (only accessible on the BBC network).
What is a risk assessment?
A structured way of thinking about how an activity or situation that is going to happen at some point in the future might cause harm to people, to property or to the environment, and thereby helping you to identify measures to prevent or minimise the risk of this happening. Think of it as a safety planning tool.
Why do I need one? 
The law requires a suitable and sufficient assessment of the risks to health and safety arising out of our work activities in order to identify the measures needed to comply with relevant safety regulations
When should I do it?
When the activities or situations proposed present a foreseeable and significant risk of injury or ill-health
When you don't already have a risk assessment or safe operating procedure which adequately addresses the risks from the proposed activity; or where the review date for these has lapsed
The earlier you do it, the easier it will be able to co-ordinate  and communicate its findings, and the more effective it is likely to be in preventing accidents or ill-health – it should not be considered a last minute task.
How should it be done?
The basic steps are given in the HSE's Controlling risk in the workplace and in our How to do risk assessment
Make sure you have a good understanding of the proposed activity and location, so you have a good idea of what could go wrong – do your research, speak with colleagues / locals / experts
Make sure you know about the people involved in case any have conditions or a lack of capabilities which could predispose them to risk of injury / ill-health e.g. allergies, phobias, pre-existing injuries, disabilities
To save on repetition, you may copy previous similar assessments, but the final risk assessment must still be suitable and sufficient in describing your activities and location
The detail in the risk assessment should be proportionate to the risks involved – simple low risk activities can be covered by simple bullet points; more complex higher risk activities will likely need greater detail
Your evaluation of risk should describe the residual risk i.e. that which remains once all controls are in place – this should be at an 'acceptable' level for the activity to go ahead (see below)
Once completed, the risk assessment should be authorised by an appropriate manager i.e. someone with sufficient competence and seniority to sanction the activities to go ahead as planned. It could be the assessor themselves, though most will prefer a second opinion. Authorisation is a check on the suitability of the planning process and the evaluation of risk – approval does not mean the transference of safety responsibilities away from those who create and manage the risks on location
Where third parties are responsible for managing an activity for the BBC, they are also responsible for risk assessing it. We are then responsible for checking its suitability, co-ordinating and communicating its findings to those under our control, and using it to monitor safety performance.
Where should it be done?
The risk assessment can either be done using the BBC's online risk assessment process (preferred) or using the BBC's blank RA form (Word). Those who complete it using the Word form should save it in the online process to help satisfy the legal requirements for record keeping and for ease of access / authorisation
'Last minute changes' on location do happen. If they don't significantly impact on the risks, you can take what additional safety measures you think necessary, if any, without recourse to your original risk assessment. However, if the changes are significant, you'll likely need to stop what you are doing to re-visit the risk assessment process – any changes made should be proportionate to the risks involved, recorded, co-ordinated and communicated and, where necessary, authorised by an appropriate manager
For risk assessments in News, see our Safety Short on Safety Planning of News Deployments (see Useful Documents).
Who is responsible?
Responsibilities for risk assessment are described in Safety Responsibilities by Job Role
Risk Assessors need to be competent – for activities which are routine business, this may mean nothing more than experience in the workplace and training in the process (see Safety Training and Competence); but for other activities, it might mean needing to have relevant professional qualifications (e.g. dive qualifications for planning a dive shoot).
Useful documents
Recommended links
Getting Started in Health and Safety

A Safety Guideline for new starters which describes the key health and safety resources, processes, training and support services available in the BBC.

Health and Safety Law posters

HSE Health and Safety law posters tell workers what they and their employers need to do in simple terms. They must be displayed on all business premises or employers must provide each of their workers with the equivalent leaflet.

Management Organisation

This topic describes the way that safety management is organised in the BBC. It should be read in conjunction with the information on individual responsibilities. In general, safety management responsibility cascades through the organisations management structure though specific tasks may be delegated.

Monitoring and Review

Monitoring and review are the 'check' part of the Plan–Do–Check–Act of our H&S management system.

Safety Hub

Safety Hub is the BBC's online risk management system where you could record risk assessments, report and investigate accidents and incidents, record monitoring information and carry out DSE assessments.

Risk Assessment

This Safety Guideline lists the key measures for those wishing to complete a safety risk assessment.

Safety Alerts

Collated below are the Safety Alerts issued by BBC Safety.

Safety Documentation and Record Keeping

A guide to some of the key safety records that we need to keep. It summarises what records are kept and who, in the BBC is generally responsible for keeping them.

Safety Management

This section provides our Guidelines in relation to the organisational management of Safety in the BBC, as well as access to the BBC Safety Policy.

Training and Competence: Safety

As an employer, the BBC must ensure employees are competent to do the work asked of them safely. This Guideline outlines the way we do this and how you can help, as well as providing a full list of our safety training resources.
Tools, guides and contacts
Events guidance - key links:
Health topics - key links:
BBC High Risk - key links:
BBC Journalism - key links:
BBC Productions - key links:
BBC Security - key links:
About this site
This site describes what the BBC does in relation to managing its health, safety and security risks and is intended for those who work directly for the BBC.
It is not intended to provide instruction or guidance on how third parties should manage their risks. The BBC cannot be held liable for how this information is interpreted or used by third parties, nor provide any assurance that adopting it would provide any measure of legal compliance. More information
Some links on this site are only accessible when connected to the BBC network