Reinventing the News Article
Developing innovative story formats for online news.
Online news has been enhanced and improved with new technologies but it still works on the assumption that 'one size fits all'. We're developing new story formats for BBC News online audiences that are more effective than conventional articles or video formats.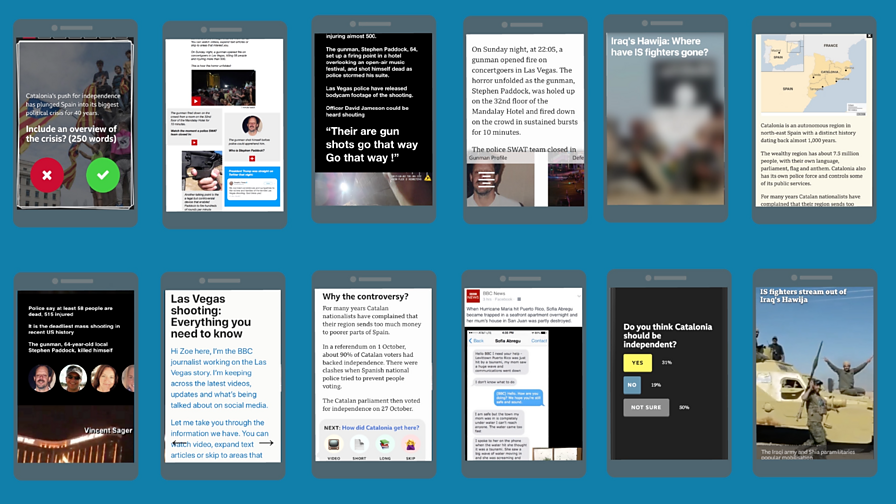 What we've done
We built over 30 prototypes of new story formats for news and tested them with various segments of our audience. The ideas ranged from playing atmospheric audio for a story, scrubbable videos, swiping through viewpoints, choosing your format, curations of stories, cinematic introductions and expandable explanations.
You can see and read more about this in the video above and in this series of articles:
Part 1 - The landscape of digital story formats for news
Part 2 - Prototyping new story formats for news
Part 3 - News formats for personalising and understanding
Part 4 - What user testing taught me about writing news for young people
Or read on for a summary.
Why it matters
We explored the current landscape of digital news and found that the 800-word article is still the dominant form of online news from most publishers. This largely seems to be a legacy from printed newspapers and to a lesser extent this is true for online news video online too, with much of it still produced in traditional made-for-TV formats albeit shorter. Back in 2014 research from Quartz found that "the place between 500 and 800 words is the place you don't want to be". They found that this length lacked both the focus and share-ability of a short piece and the pay-off of a longer piece. We think there could be better things.
The news industry has well-recognised problems around attracting and retaining audiences online. There's competition from all the other attention-sinks on the internet, the challenge of sustaining business models and the need to continually cope with increasing disaggregation of the news by tech platforms. One possible response to this situation is to develop new formats that are designed for news. Formats that better fit peoples' habits and contexts and technology, and better meet their user needs.
BBC News has some audience segments which it struggles to reach, particularly young people from 18-26 and older female audiences. We therefore chose to focus on these underserved audiences when designing our formats.
Our goals
We wanted to develop formats that were better than existing ways of telling news stories online. It's important to us that people can understand and use the formats intuitively and that they fit their needs, contexts and technology. And for the BBC these formats have to work at scale, across genres and stories, and enable journalists to tell stories in an efficient and creative way. So overall we were looking for formats that were feasible, desirable, met user needs and were (obviously!) new and innovative. We therefore evaluated the prototypes ourselves against a range of criteria:
Is it usable and understandable?
Is it delightful and engaging?
Is it distinctive and new?
Does it meet audience needs and behaviours?
Does it strike the right tone and style?
Is it easy to build? (technically)
Is it easy to create stories for it? (a key business need)
Does it work across different genres of news? (e.g. features, breaking news, long-running stories, digests…)
What kind of pattern or format is it? Is it a new kind of interaction or is it a new way of telling a story? Or, in my definition of a format, is it some kind of a combination of these?
How it works
We set up a multi-disciplinary project team with the key skills to make news prototypes; a journalist, a UX designer, a user researcher and a developer.
We wanted to test lots of concepts as quickly as possible, kill the weak ones early, and iterate or create new ones. To do this we needed regular, early user feedback and we aimed to design for the needs, behaviours and context that we heard about from the users we interviewed. We developed ideas into testable prototypes on a weekly basis, using real news stories, and tested them with real audience members.
The project was divided into three phases, each with a particular focus and a particular target audience:
Phase one, was about designing story formats for younger audiences.
Phase two aimed to design personalised story formats — stories that would somehow adapt to the user — for women aged 28–45 years-old, another hard-to-reach audience for BBC News online.
Phase three aimed to make formats that would enhance the understanding of stories and issues, and we returned to Generation Z.
Outcomes
About two-thirds of the work was done with Generation Z (18–26 year-olds) in the UK; the remainder was done with another underserved audience, women between 28 and 45, and a final validating test with an older "core" BBC audience. We found many of the needs mirrored across several audience segments — many people using mobiles, being short of time and having quite a fragmented experience of news. From this research we compiled a set of "truths" for our audience that we tried to design for in our prototypes.
They use smartphones for online news (obviously), but they often have concerns about device storage (and so limited their number of apps) and using up their mobile data plans. So we always designed and built for the mobile web and focused on text and images.
They do want news —and want to feel up-to-date and informed about the world and how events might affect them.
They tend to skim the news, to quickly see what's going on, but then pick what's of interest to them and dig into that.
They expect interactions and control in digital formats — with everything else they're swiping and tapping, so why not with news?
There was a general preference for text for news — it's easier and quicker for most people. A small minority preferred video, and there are some stories where video is the best format.
Opinions and different perspectives are important, particularly to the younger audience. They felt that seeing these helps them develop their own opinions and make their minds up on issues.
The BBC (and many other news organisations) use too much assumed knowledge and jargon in stories. This can make the stories inaccessible to anyone who doesn't have the necessary context or background information.
We're experimenting with some of the best formats by testing pilots on BBC News online — to see how they perform with users at scale, what it's like to produce editorial content for them and to get a feel of what stories they work best for. The BBC's Visual Journalism team have developed a version of the Expander format that uses inline infoboxes to give definitions and context — like this explainer on the US mid-term elections. And we've worked with BBC News Labs to develop a version of the Incremental prototype, as seen in this article on the US mid-term election results.
Tweet This - Share on Facebook

Our Beyond 800 Words Series:

Prototyping New Story Formats for News

News Formats for Personalising and Understanding

What User Testing Taught Me About Writing News for Young People

Medium - The landscape of digital story formats for news

Nieman Lab - What's worked (and hasn't) in the BBC's quest for new storytelling formats

Nieman Lab - 35 prototypes, one year, and lots learned: The BBC puts its mobile storytelling plan in action

BBC R&D - Newsbeat Explains - Piecing Together the News for Young Audiences

BBC R&D - Mobile-First News for Young People - Our Findings from Newsbeat Explains
This project is part of the Stories work stream
People & Partners
Project Team
Lead Producer

Creative Technologist