Playlist Button
An example of new physical apps for media discovery
A Playlist Button lets you add the music you love from BBC radio to Playlister. Using the Button creates personalised playlists when listening live with an FM or DAB radio, or using Radio iPlayer.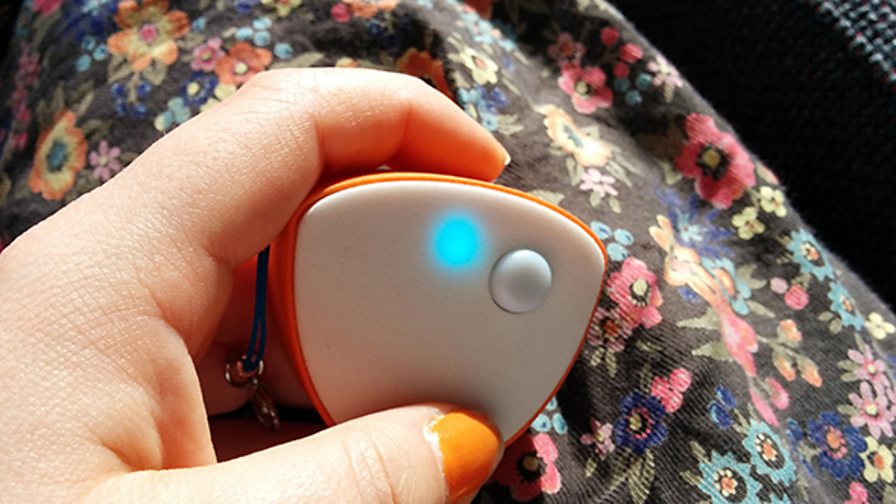 What we've done
This project looked at physical connected hardware, and formed part of the Internet of Things work within BBC R&D.
After set-up, a user could use their Button when near their phone, with Bluetooth & WiFi turned on. Better still, the Button could be used on its own, syncing later with the app to update the playlist. The hardware was a physical tethered button, extending into the real world the functionality that already existed within the BBC's Playlister music service.
We wanted to understand if a connected physical object, such as the Playlist Button, could provide a better way of controlling/ interacting with media in certain contexts than a smartphone app. So, we tested two versions of the Button against an app 'in the wild' to explore the suitability for simple physical interactions.
To view a higher quality version of the video please click here.
Why it matters
We've all been there, you hear an inspirational piece of music, unlike anything you've heard before, or yet another classic funny moment on the Radio One Breakfast Show… It's a moment of broadcast you either want to learn more about, share with friends, or cherish forever. But you're driving, or your hands are busy with the washing-up, you tell yourself to remember it, but by the time you get round to looking it up on your phone, it's gone…
And radio has an implicitly active audience. It has natural advantages in that it's live, personal and mobile, with strengths in the live experience, connectivity and topicality. However experiences with radio whilst driving are exclusively a one-way deal, 21 million people each week* listen to the BBC in their vehicles, but can't easily interact with their favourite station. *[RAJAR Q1 2013]
Imagine if you could simply touch a device to save that moment, so you could access and share it later?
Our goals
This project extended our 2013 work to prototype a Connected Fob for Radio for use when driving. Further to this, R&D UX was interested in exploring this experimental hardware in relation to:
How we could deliver a frictionless way of interacting with and discovering content
Proving or disproving the importance of continued research into physical / digital hardware with media
Understanding the BBC's role in the use of connected physical devices for interaction and control of content
Adding longevity to FM radios, and additional Internet / connected ability to other older technologies
Increased value to audiences, potential audience insight
Connecting new audiences with the Playlister service

Outcomes

This project led the publication of a paper at CHI 2016.