Mythology Engine
Bringing TV programmes to life on the web
Exploring some of the BBC's best loved programmes through characters and story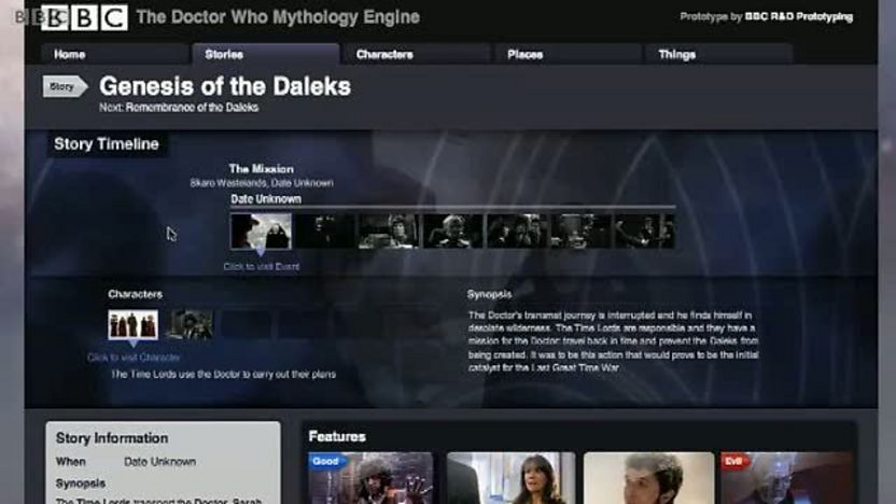 What we've done
The Mythology Engine is a prototype website that represents stories on the web and lets you explore Doctor Who in any way you want.
Why it matters
Most broadcasters' websites, the BBC's included, follow the traditional broadcast model when it comes to representing their programmes online: you can navigate by series and episode only and maybe watch it or see a clip. We noticed that fan-produced sites and Wikipedia, on the other hand, went into great detail about our shows and the stuff audiences really care about: characters, storylines, places, even things like the Sonic Screwdriver.
It made us wonder: what would happen if we treated these well-loved shows as stories rather than programmes? Or, to put it another way, could we build a model for programmes that described their content rather than their broadcast schedule?
Our goals
Our objective was to build a website that would allow people to explore BBC dramas and the archive, and to create a reusable story framework that could apply to many different stories.
We wanted to understand how best to:
Visualise complex plots and character relationships
Provide a way for you to catch up on stories you've missed
Find the stories you are looking for
Share your favourite moments or characters
How it works
We chose to work with Doctor Who because it is a high-profile programme with a large archive and complex narratives (time travel is hard!).
First, we identified the constituent parts of the programme and the available data. To make sure we took advantage of how the web works, we wanted to create unique pages per concept so that they could be linked together - to show how, say, the Daleks appear in more than one episode.
We then used a domain-driven modelling approach to create a data model, using the Ontomedia ontology as a basis. Then we built a prototype website in Ruby on Rails.
Our approach to building prototypes is agile and iterative so our software engineers modelled the data and got running code as soon as possible, we then did some ad-hoc user testing with some colleagues so we could iterate the designs and make it better. Finally, we worked with a freelance writer to bring the data model to life and create all the content for the site.
Outcomes
You can read more about the thinking and development of the project in our original blog post. The prototype is live but, due to distribution limitations, is only available internally within the BBC. It features five whole stories from Doctor Who, including a couple of story arcs and about forty characters. We carried out significant user testing to find out what people thought of this concept.
It has led to further research work and has been influential in a number of follow-up projects around the BBC in narratives, both fictional and historical, including the Home Front Story Explorer.
This project is part of the Stories work stream