Multiplayer Broadcasting
Broadcasting a live presenter into a multiplayer games engine
Advances in real-time rendering mean that video games are becoming ever more cinematic. Simultaneously, broadcasting is moving towards object-based, IP distribution, enabling novel interactive experiences. We are investigating the convergence of these technologies through a project called 'Multiplayer Broadcasting'.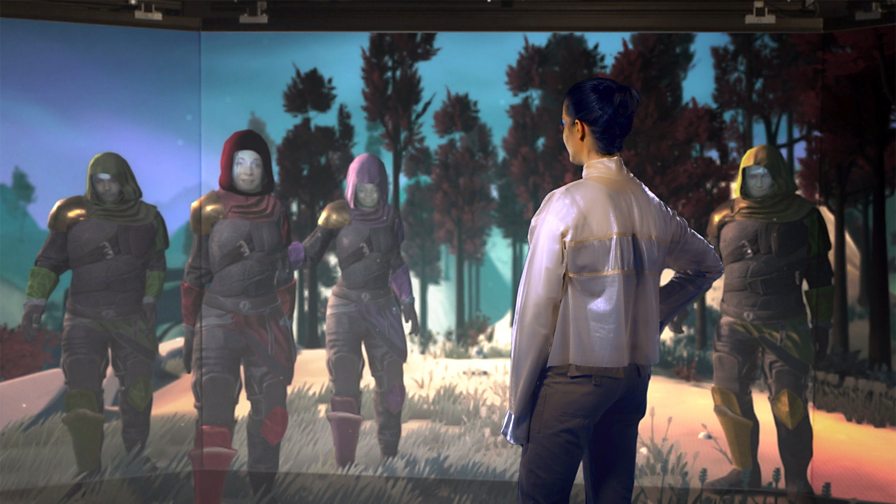 What we're doing
As the BBC R&D UX team, we're interested in the future of audience experiences. Anticipating the advances in both gaming and broadcast technology, we've made a film to illustrate how these might come together to create a novel mixed reality challenge show.
Multiplayer Broadcasting blends live TV shows with the interactivity of online games by placing audience avatars and presenters into a shared virtual world. Not only does this give audience members a chance to interact and communicate with live performers, but they are no longer limited by real world locations. We see it as the next iteration of audience participation shows in a broadcast-VR enabled future.
Our film features a fictional game show called 'The Watch' to illustrate the underlying concept. However, it is not a pilot for a specific show; our vision of Multiplayer Broadcasting can be applied to a variety of genres across BBC brands. We will use this film to communicate the creative opportunities enabled by the concept and help us identify the technical challenges involved in making this experience a reality.
Why it matters
In order to anticipate the future of audience participation shows, we started by looking at existing experiences in this genre. We recognised that the popularity of traditional game shows is often due to audience members completing physical and mental challenges while interacting with a charismatic presenter or celebrity; for example The Crystal Maze, Total Wipeout, and Hole in the Wall.
We then looked at how such game shows have experimented with technology to add virtual elements to their shows; for example, Knightmare put the contestant inside a virtual world (albeit one they couldn't see), and Bamzooki had children battling virtual robots.
On top of this, we know that people will spend hours watching other people play videogames on services like Twitch and YouTube, and we wanted to think what the BBC could bring to this space.
This is what led us to the essence of our Multiplayer Broadcasting concept: putting a live presenter inside a virtual world shared with audience avatars. Capturing the presenter live preserves their showmanship and performance as-is and allows them to interact and improvise with the audience. Having audience avatars means suddenly anyone, anywhere can become a participant in a show. They can meet their heroes without needing to be in the same physical location. The virtual environment provides endless stylistic and creative opportunities; we're no longer limited by reality. We can send our presenter and participants to impossible locations, we can defy the laws of physics and set them challenges too dangerous for real life. We could give them superpowers, or we could dissolve them in lava, without a risk assessment in sight!
Additionally, our concept can be enjoyed on a variety of devices in a number of ways. People would be able to participate in the game show on a console, on a PC or in VR. Alternatively, those who prefer a lean-back experience could watch a traditional broadcast of the live show, with the option of lightweight interaction via a second screen.
How it works
There are a number of technical challenges involved in creating an experience like this - including generating live, free viewpoint video of the presenter, streaming that data into multiplayer video game engines, and making the aesthetics of the video match the style of the virtual environment. We believe that the technology for this kind of experience is on the horizon, but more research needs to be done to make this feasible for production.
To create the film, we used elements of real technology, along with some visual effects to fill in where the technology doesn't yet exist. Our presenter is shown surrounded by projection screens, which act as a headset-free virtual reality display - allowing her to see the virtual environment she's sharing with the audience member's avatars, and allowing us to experience her full performance.
This sequence was filmed at Salford University's Octave facility - a room-sized stereoscopic virtual environment display. The Octave has the ability to display virtual environments to our presenter, and capture them as a 3D mesh - just like we'd need for a real Multiplayer Broadcasting experience.
The game elements of the film were created using the Unity game engine by Play Nicely, who also filmed the live action sequences, and put the film together for us.
This project is part of the UX work stream
People & Partners
Project Team
Lead R&D Engineer

Project Research Engineer