Data Science Research Partnership
Collaborating with eight partner universities to unlock the potential of data in the media.
The Data Science Research Partnership aims to put the BBC at the forefront of machine learning and data science for the media industry, unlocking the potential of the BBC's data and helping create a more personal BBC that can inform, educate and entertain in new ways. Originally a five-year initiative from April 2017 - March 2022, the partnership is now an ongoing initiative.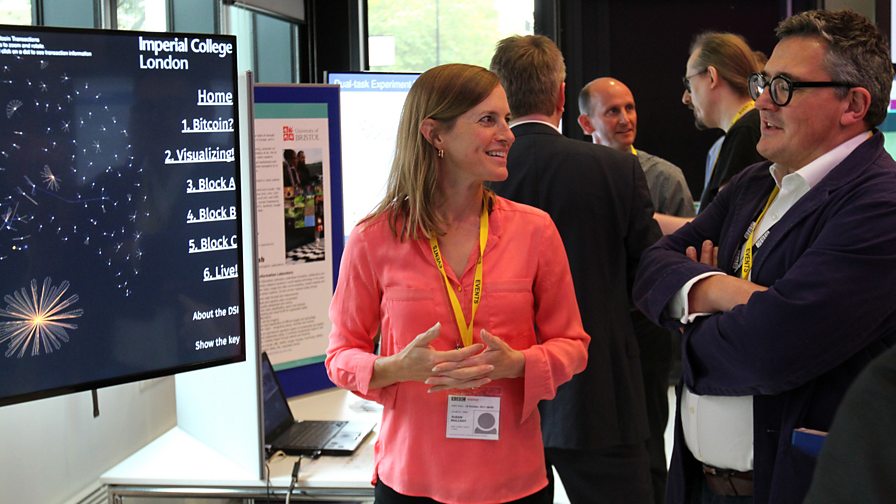 What we're doing
The Data Science Research Partnership (DSRP) is an initiative between the BBC and eight partner universities. The collaboration brings together industry experts in the fields of data science and machine learning from across the BBC and world-leading UK data scientists from the Universities of Bristol, Manchester, Edinburgh and Surrey, Imperial College London, Queen Mary University of London, Ulster University and University College London.
The aim is to create a body of research, insights and prototypes that can make a real impact on the BBC and its audiences.
There are four main themes of work:
Understanding audiences: Use data to understand better what our audience wants from the BBC, why they want it, and what impact these programmes or services have on them.
Understanding content: Explore what machine learning can teach the BBC about its programmes and services and what it stands to gain from it.
Curation and personalisation: Create a more personal BBC, designing tools and algorithms to help programme-makers with editorial and commissioning decisions.
Content of the future: Design new and innovative audience experiences.
A critical part of the DSRP is developing data science skills to address the scarcity of data scientists in the UK. Working with our network of university partners, we promote work-based learning opportunities for students at undergraduate, postgraduate and PhD levels to ground their learning in real-world problems.
The DSRP is curating a selection of datasets for use by the research community. These datasets will be built from the BBC's data and released to the community with the hope of stimulating research.
Why it matters
Within the BBC, we see the huge potential for more data-informed experiences and tools. The BBC and universities share a keenness to exploit opportunities in data science, and there is a huge appetite to work on the BBC's problems and data sets, with a shared focus on the public good.
The DSRP is helping colleagues in the BBC develop the skills they'll need in a data-driven future.
Outcomes
Core to the DSRP is the creation and oversight of collaborative projects between the BBC and academic partner institutions. "To date, the DSRP has enabled over 40 such collaborative projects, and significantly, supported PhD students, finding placements for secondments and interns. Schemes such as these are of great benefit for both the BBC and academic institutions as they encourage the sharing of knowledge and experience.
As well as initiating and running collaborative projects, the DSRP supports broader initiatives to benefit the research community. Examples include AHRC Creative Clusters and supporting a Prosperity Partnership to develop and trial new ways to create and deliver object-based media at scale. These partnerships are business-led research partnerships between leading UK-based businesses and their long-term strategic university partners, with match funding from EPSRC, part of UK Research and Innovation. We have hosted several fellowships. "Vectors and tensors for textual understanding of subtitles and news" was sponsored by the Royal Academy of Engineering and "MTStretch", a fellowship focussed on machine translation of low resourced languages was sponsored by EPSRC.
The DSRP has helped shape three Centres for Doctoral Training in Data Science: QMUL's Artificial Intelligence and Music (AIM) and Data Centric Engineering (DCE); and UCL's data-intensive science CDTs.
PhD projects
Internships, secondments and fellowships
The DSRP enthusiastically supports the cross-fertilisation of skills between the BBC and academia via internships or secondments. The movement of staff and students between the BBC to a university research group and vice versa has huge benefits for both institutions, exposing the intern or secondee to new ideas and allowing the development of new skills.
BBC R&D - Explainability for Domain Experts

BBC R&D - Using artificial intelligence to automatically segment media content
The DSRP has been hugely successful in finding placements for interns and secondments within the BBC.
| Title | University | Type |
| --- | --- | --- |
| Vectors and tensors for textual understanding of subtitles and news | QMUL/UCL | Fellowship |
| | | |
| Understanding, analysis and visualisations from BBC online taster pilots | University of Manchester | Internship |
| | | |
| Experimenting with User Experience Object based media data – CAKE | University of Manchester | Internship |
| | | |
| Reinventing the cost function for World Service Onward Journeys | University of Manchester | Internship |
| | | |
| Singing with Machines | QMUL | Internship |
| | | |
| My data rights - your data obligations | QMUL | Internship |
| | | |
| Measuring the Immersivity of UHD and HDR Television | University of Bristol | Secondment |
| | | |
| Machine Comprehension for News | QMUL | Internship |
| | | |
| Measuring the Societal Impact of the BBC | University of Ulster | Internship |
| | | |
| Aligning BBC Algorithms: Editorial Guidelines, good practice and the law | UCL | Internship |
| | | |
| A Hybrid Recommender System for Text Content | University of Manchester | Internship |
| | | |
| Camera Correspondence and Scene Understanding | University of Manchester | Internship |
| | | |
| Intelligible Cloud and Edge AI (ICE-AI) | University of Edinburgh | Secondment |
| | | |
| Graph-based recommender methods | UCL | Internship |
| | | |
Future
The DSRP continues to search for new research areas and encourages as broad a range of partners as possible. The partnership aims to collaborate with media and technology organisations from across the UK and internationally on a range of projects. We will continue to share more data and problems with our partners. This partnership will train the next generation of data scientists on media problems that will create audience experiences that don't even exist yet.
For more information
Andy Secker, DSRP lead, is the primary contact for enquiries.
The DSRP is part of the work of BBC R&D's Data Team, led by Andrew McParland and supported by the Partnerships lead, Sam Chadwick.