COGNITUS
A system to capture, process and distribute user-generated content from many different users, making it suitable for use on UHD services.
Smartphone cameras and social media networks allow for the incredibly fast distribution of user-generated content (UGC) which is increasingly important in the coverage of news stories and live events. COGNITUS is a system that coordinates the capture of footage from many different users and up-converts this – all within an interface that allows the producer to easily create programmes and packages from the material and then distribute them to audiences in ultra-high definition (UHD).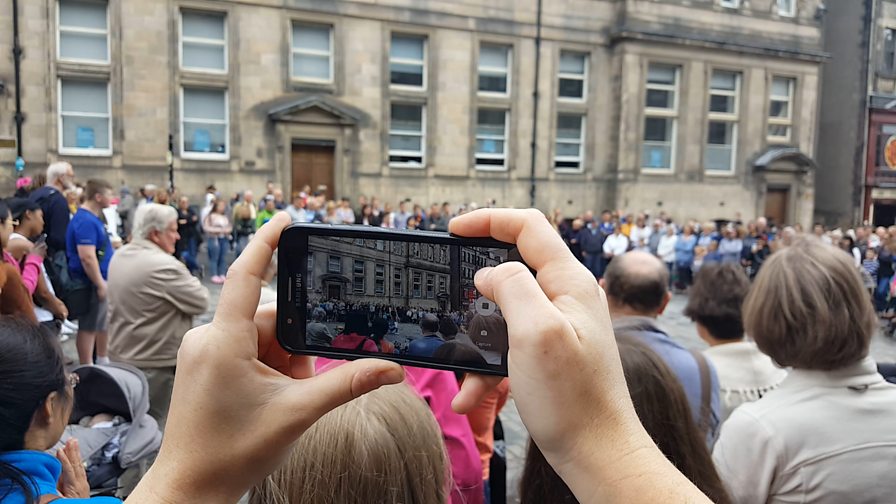 Why It Matters
Anyone with a mobile phone or a connected device is potentially able to cover a live event or news story wherever they are and give producers different perspectives that can enhance existing coverage. However, trying to manage a potentially endless number of sources can add complications and complexity. Submissions can be delivered via a number of different routes that need to be monitored or imported, or the footage could be in many different resolutions because it has been captured by many different types of device. With the development of UHD and HDR production, video may not be of a high enough quality, and the distribution of this high quality content to various devices over limited capacity networks needs very efficient compression.
The COGNITUS project aims to tackle these problems – and bring some additional benefits too. Our system synchronises footage captured with our app, effectively enabling a crowdsourced, jointly created production at the highest video quality.
What We're Doing
In the first half of the COGNITUS project we have established the requirements for UGC acquisition and curation by users and systems, and developed a number of prototype technologies through collaborative research. A number of UGC quality enhancements and semantic enrichment techniques have been produced - in particular the BBC has produced significant developments with the open source HEVC Turing codec.
COGNITUS conducted initial tests of the technology at the Edinburgh Festival in August 2017. Contributors (recruited specially for the trials) attended the festival, and captured street performances and shows from around the city. The COGNITUS user generated festival footage was then processed to enhance the videos for broadcast services. A large number of clips were contributed and you can view examples of the results of the trial on the COGNITUS project website.
For the next stage in the project, COGNITUS went bigger and better through improving the current technology prototypes, to provide a modular system which deals with acquisition, enhancement and distribution of UGC content. COGNITUS were back at the Edinburgh Festival in 2018 to conduct larger scale trials with more users attending the festival, plus two performances of the Royal Edinburgh Military Tattoo. Using some of the users' own words, COGNITUS users 'soaked up the vibes', and 'ventured into the unknown' (the theme of the festival) to experience the 'cascade of colour and culture' and capture their own personal perspectives on the performers, crowds, and ambience to share their experiences. Over 1000 video clips were generated by our users, which now act as a valuable pool to draw on to be incorporated into broadcast services, and/or be used for further research and development into video enhancements. See some of the results on the COGNITUS Pilot at Edinburgh Festivals 2018 page.
How It Works
The volume of data associated with UHD video is at least eight times that of HD, and efficient video compression technology is required to handle such an enormous amount of information. The HEVC standard was developed to tackle this problem and BBC R&D's Turing codec is a fast software implementation of this new codec standard. The Turing codec enables efficient adaptive delivery of COGNITUS videos to audiences, but also means the enhanced UGC footage is stored efficiently in the COGNITUS repository.
As part of the video enhancement, we have also developed COGNITUS to dynamically enhance footage with our HDR process, as well as a video quality assessment framework. More detail on all these things can be found on the COGNITUS partners' website for the project.
Outcomes
The project will deliver a proof of concept to demonstrate the power of social creativity in a coordinated way, through trials at real-life large events such as big arts, music or sport events. These use cases are just some examples of the fascinating and potentially unlimited new services that could be unleashed by the combination of UHD broadcasting technology and UGC that COGNITUS opens up.
Horizon 2020
COGNITUS is a Horizon 2020 innovation project and has received funding from the European Union. The project includes eight partners from across Europe, led by BBC R&D, and brings together researchers and experts in video broadcasting, processing and analytics, with the objective of exploring innovative technology, to push the boundaries of conventional broadcasting.