Cook-Along Kitchen Experience
A real-time, interactive cookery show that changes as you cook with it.
The Cook-Along Kitchen Experience (CAKE) is a new object-based broadcasting experiment from BBC R&D using a cooking programme as an example learning experience.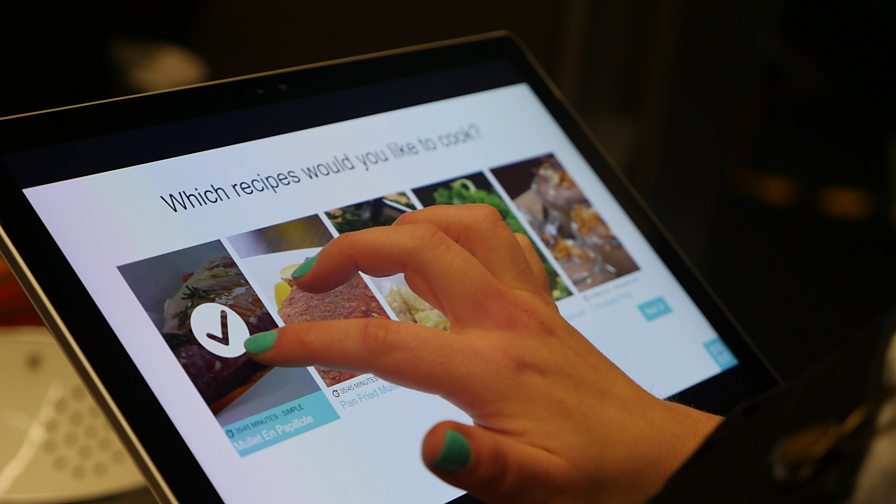 What we're doing
In order to start imagining new experiences that can take full advantage of an IP Studio based production system, we have pushed object-based media principles to another level by planning an entire production around flexible & re-purposable media.
Audio/visual experiments in the past to develop and understand object-based have included reverse engineering a radio documentary, demonstrating the capabilities of a technology stack using a responsive weather forecast, and playing with explicit & implicit audience direction for curating perceptive experiences.
From production to experience; CAKE is defining requirements for new tools that span an entire creative process.
You can try CAKE right now here on BBC Taster!
Production clapperboard highlighting shots & objects
How it works
Following a recipe with CAKE is different to other cooking shows because it's not a linear TV programme.
It customises recipes based on your familiarity with ingredients and methods, your tastes or dietary preferences, and how many people you're inviting round for dinner. The experience reacts 'in the moment' to your progress, allowing you to create new dishes at your own pace. Novices can level-up and experts can cut to the chase, supported by an evolving dialogue between audience and presenter.
Mullet en Papillote recipe step - in text form
The information provided by a budding chef at the start of the process will guide the system's behaviour and configure a recipe schedule. As cooking progresses CAKE can be responsive to individual needs and present information as appropriate for the audience, using a mix of AV and text segments.
The segments are constructed as a collection of 'objects' that are compiled using a metadata structure, which defines relationships between them and how they should change or re-assemble in response to a person. This creates an interactive piece of content, seamlessly rendered in the browser using BBC R&D's IP Studio technologies.
The audience-facing experience predominantly uses touch interaction, but we're playing with speech recognition for easier control in a kitchen environment, and also to prevent chocolatey fingers all over beloved tablets!
Check out OPTIC & VideoContext for more information about the services we're building to support experiences such as the Cook-Along Kitchen.
Why it matters
Object-based techniques offer new creative editorial opportunities, the advantages of shooting in an object-based way is that media becomes easily reusable, and remixing it to tell new stories or build future responsive experiences doesn't require any re-engineering.
This is exciting for producers who want to make experiences that subtly mix highly personal and expertly curated content. If we could gather an entire library of cooking content captured in this way, then supporting, entertaining, and understanding people in context with tailored learning resources becomes business as usual.
Our challenge is to have production methods defined by CAKE adopted and integrated as workflows for producing new responsive content and experiences. This requires them to be frictionless, mature, and modular interventions that blend with (or even speed-up) existing workflows.
In the production kitchen we worked with Newcastle University Open Lab to capture data about smart utensils, including the position of crockery and ingredients in shot, and tool orientation and activity (such as knives and zesters). In the future we could imagine using this data to inform edit decisions, and track people and props on set.
It's also compelling to consider how CAKE could support and track learning, using real-time information about cooking techniques using connected devices. This new production data could convey subjective information (such as correct methods for using tools, or the texture and consistency of food materials) by comparison with connected tools in the audience's home kitchen.
Audience's smart kitchens could also change the experience based on contextual information from their connected appliances, such as knowing when your oven has reached the right temperature.
What's next?
You can try CAKE right now on BBC Taster.
Our next piece of work will be using what we've learned to design worflows and software tools to enable object-based productions for things like CAKE and beyond. Think gardening, craft and kid's making, car maintenance, learning an instrument, yoga and exercise, exam revision, knitting, home brewing...
Drumroll please:
Welcome our object based project, CAKE: the Cook-Along Kitchen Experiencehttps://t.co/wo4FOGVdqb pic.twitter.com/F1NCTU1aGL

— BBC R&D (@BBCRD) September 5, 2016
BBC R&D - Serving Up Object-Based Production in the Cook-Along Kitchen

BBC R&D - Making CAKE: from Object-Based Production to Experience

IBC-TV - What Caught My Eye - BBC R&D

TVBEurope - What Caught My Eye: Future business opportunities

BBC R&D - MozFest 2016 - The Kitchen Databox Demo
This project is part of the UX work stream