Audio Research Partnership
Working with leading university partners to push the boundaries of audio technology.
Bringing together the world's top audio research groups to develop the next generation of audio broadcast technology.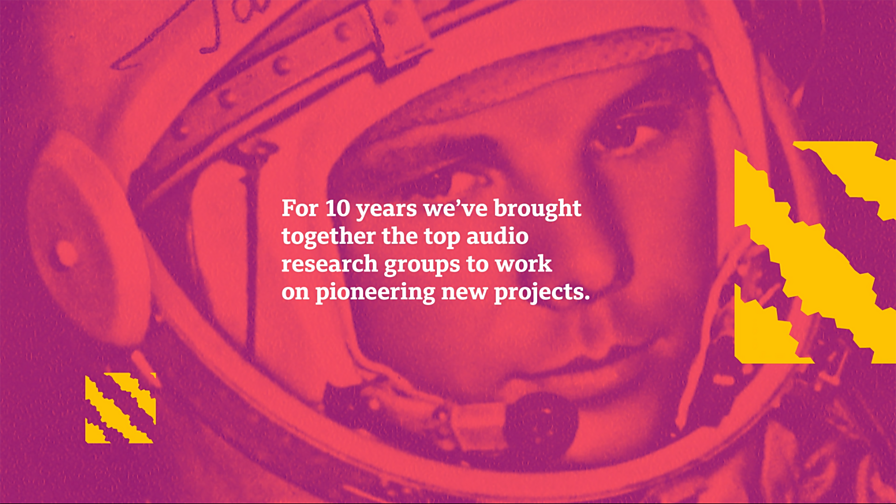 What we're doing
The BBC Audio Research Partnership was launched in 2011 to bring together some of the world's best audio technology researchers to work on pioneering new projects. The original partners were University of Surrey, University of Salford, Queen Mary University of London, University of Southampton, and University of York. Since then, we have partnered with many more research groups and organisations, and are always looking for opportunities to collaborate where there is a shared research interest.
Why it matters
Collaborating with university and industrial partners allows us to work directly with the best researchers and to steer the research to maximise the benefit to our audiences. By coming together, we can pool our resources to tackle some of the biggest challenges in broadcast. This partnership has led to pioneering developments in many areas including immersive audio, personalised and interactive content, object-based audio, accessibility, AI-assisted production, music discovery, audio augmented reality and enhanced podcasts.
Outcomes
Over the past decade or so, the partnership has given rise to a wide range of projects, including large-scale collaborative projects, PhD studentships, industrial placements and public events.
Public Events
We run a series of public events to celebrate the most exciting and innovative developments in audio, both creative and technical. You can read about each event and watch video recordings from some talks below:
Collaborative Projects
Several large-scale projects have resulted from the Audio Research Partnership. These have been funded by various bodies, including EPSRC, UKRI, AHRC, and EC, with a total portfolio size in excess of £30M.
| Dates | Project | Partners | Description |
| --- | --- | --- | --- |
| 2021‑2026 | AI4ME | University of Surrey, Lancaster University | Using AI and OBM to enable media experiences that adapt to individual preferences, accessibility requirements, devices and location. |
| 2020‑2025 | AI for Sound | University of Surrey | Using application sector use cases to drive advances in core research on machine learning for sound. |
| 2019-2027 | AI + Music CDT | Queen Mary University of London | Combining state-of-the-art ability in artificial intelligence, machine learning and signal processing. |
| 2019-2024 | XR Stories | University of York | The future of immersive and interactive storytelling. |
| 2019-2021 | Polymersive | Imrsvray, University of Surrey | Building tools to produce six degrees-of-freedom immersive content that combines lightfield capture and spatial audio. |
| 2016-2019 | Making Sense of Sounds | University of Surrey and University of Salford | Using machine learning to extract information about non-speech and non-music sounds. |
| 2014-2019 | FAST IMPACt | QMUL, University of Oxford, University of Nottingham | Fusing audio and semantic technologies for intelligent music production and consumption |
| 2013-2019 | S3A Future Spatial Audio | University of Surrey, University of Salford, University of Southampton | Advanced personalised and immersive audio experiences in the home, using spatial and object-based audio. |
| 2015-2018 | ORPHEUS | IRT, Bayerischer Rundfunk, Fraunhofer IIS, IRCAM, B-COM, Trinnov Audio, Magix, Elephantcandy, Eurescom | Creating an end-to-end object-based audio broadcast chain. |
| 2013-2016 | ICoSOLE | Joanneum Research, Technicolor, VRT, iMinds, Bitmovin, Tools at Work | Investigating immersive coverage of large-scale live events. |
PhD Projects
We have sponsored or hosted the following PhD students, covering a variety of topics:
Industrial Placements
On occasion, we host short industrial placements from PhD or Masters students:
Year
Student
University
Description
2021
Josh Gregg
York
Audio personalisation for Accessible Augmented Reality Narratives
2020
Edgars Grivcovs
York
Audio Definition Model production tools for NGA and XR
2020
Danial Haddadi
Manchester
Audio device orchestration tools and trial productions
2019
Valentin Bauer
QMUL
Audio Augmented Reality
2019
Ulfa Octaviani
QMUL
Remote study on enhanced podcast interaction
2019
Emmanouil Theofanis Chourdakis
QMUL
Automatic mixing for object-based media
2018
Jason Loveridge
York
Device simulation plug-in
2016
Michael Romanov
IEM
Ambisonics and renderer evaluation
2014
Adib Mehrabi
QMUL
Music thumbnailing for BBC Music
2014
James Vegnuti
QMUL
User experience of personalised compression using the Web Audio API
2013
Nick Jillings
Zheng Ma
QMUL
Personalised compression using the Web Audio API
2011
Martin Morrell
QMUL
Spatial audio system design for surround video
People & Partners
Project Team
Lead Research Engineer

Lead Research & Development Engineer

Lead R&D Engineer - Audio