BBC Research & Development in 2020
This year the BBC Research & Development department turned 90 years old. During our existence we have played a huge part in innovations like noise cancelling microphones, the first transatlantic TV transmission, Ceefax, HDTV, and more recently AI/ML development, low resolution streaming, interactive storytelling, object based media, 5G and much more.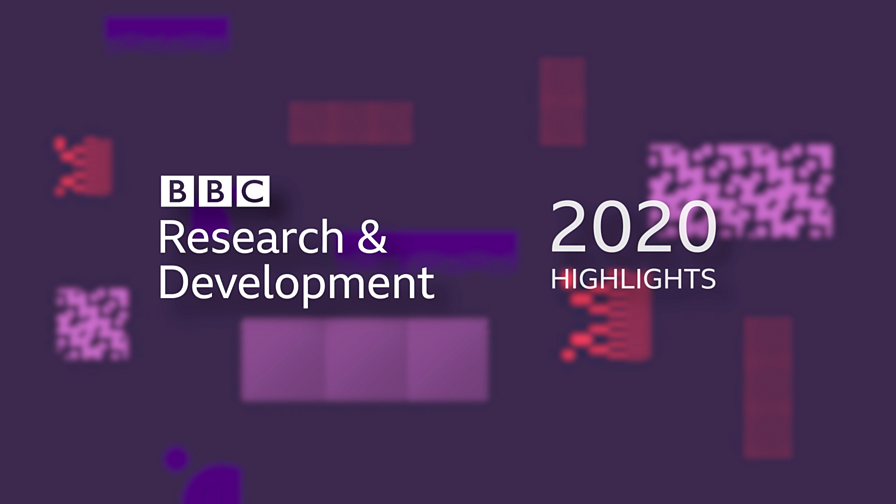 Over the years, while the technology may have evolved our purpose hasn't. Our remit is still to take a view, look forward 3, 5, 7 years. All the time asking how we use technology to keep public services relevant.
The department has a whole bunch of people working across a range of tech from broadcast all the way through to Internet Protocol (IP). And in some ways helping the BBC navigate its way from one to the other of those is the cornerstone of what we do.
And we don't do this alone. We often employ a 'phone a friend option' allowing us to collaborate with both internal and external colleagues across industry and academia.
We share our insight widely in places like our website, across social media, at conferences (one example was our Sounds Amazing audio event which we detail below) and through trade bodies.
You may already have seen some of our 2020 highlights, but here's a few just in case:
We launched BBC Together an experimental new prototype to help people watch and listen to BBC programmes together even when they are physically apart.
Autumnwatch used R&D's AI system to identify different animals captured by multiple cameras saving hours of production time.
The R&D audio team worked with the BBC Writers Room Cardiff to create Monster - a spine chilling immersive audio horror for Halloween.
We led the industry in numerous 5G initiatives: including IBC's Accelerator programme, where the department was integral to an early stage proof of concept experiment exploring cutting edge 5G remote production; and 5G Records a major EU project looking at professional production workflows across audio, video and immersive.
Our Sustainable Engineering team released research exploring the energy used to deliver and consume television and radio.
Published the technical specification for Dynamic Adaptive Streaming over IP Multicast, which would enable the distribution of live television at scale over the Internet
Sounds Amazing - something that was better in Lockdown! We brought together producers, presenters, reporters and engineers to talk about what will be next and later for audio. Over 3000 experts attended this virtual conference from around the world.
We showcased our Visual Data Analytics, Personal Data Store and Sustainability research through StoryFormer our interactive storytelling tool in a showcase debuted during IBC week.
Makerbox, our resource for developers, producers and storytellers had its first birthday, and highlights to the year included the introduction of tools to the industry such as Audio Orchestrator.
We conducted an online study called Synthetic Voice and Personality, which tested several bespoke synthetic voices with British regional accents on a wide public audience.
At a time when issues around identity, data, and privacy are so topical, R&D has joined with technology strategy and user experience design departments to develop a radical new approach to the storage and use of personal data . This involves the use of Personal Data Stores, in conjunction with the Solid project established by web inventor Tim Berners-Lee.
R&D introduced the Human Values framework – examining how core human values relate to digital media use, in order to enhance service design and improve impact measurements. And we published a series of interviews talking to industry experts about this area.
We launched our YouTube series BBC R&D Explains. The first episode covered personalisation and then we dedicated a mini-series to New Forms of Values, all of which are available on our channel.
And finally, BBC R&D won Broadcast Technology's Special Recognition Award, for its continued excellence at the cutting edge of innovation over the last 90 years.