A review of Sounds Amazing 2020: Our virtual audio conference
Last week we ran the Sounds Amazing 2020 conference online, in partnership with the BBC Academy. It was a free event over three days that celebrated innovation in audio. The event was a fantastic success, with a fascinating array of presentations and discussions, reaching an audience of thousands. This is an overview of the talks with links to recordings in case you missed anything, along with a few reflections on running an online event during these strange times.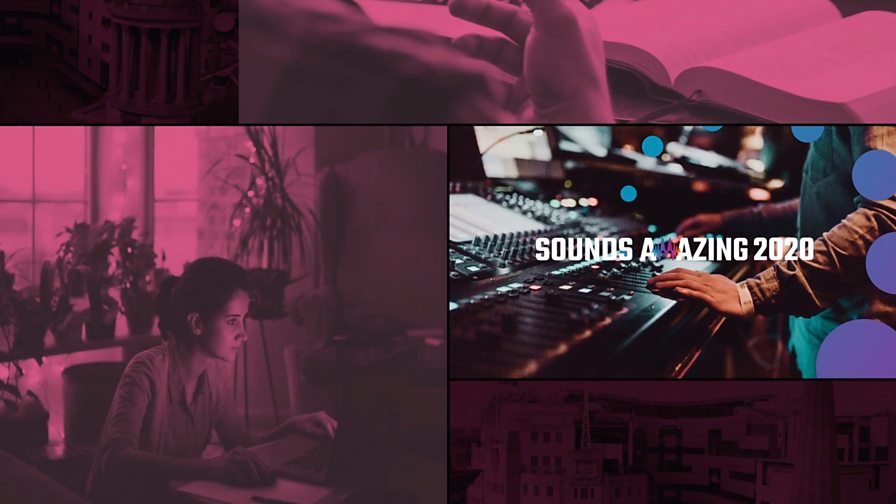 The event was hosted by LJ Rich, a presenter on BBC Click and also a musician and technologist. LJ has hosted two previous events of ours and she did a fantastic job again, in a new and challenging online format. On each of the three days, we ran a one-hour session in the morning and another in the afternoon. The above video gives highlights from across the three days, but each session is available in full, so I give an overview below. You can also watch highlights from our 'techno bubbles' which we ran over the lunch hour each day, giving a more in-depth look at some exciting new technologies.
---
Day One
Day one started with a session on the power of soundscapes. Jonathan Wall, Controller of BBC Sounds, opened the session and the whole event by talking about the changing landscape of the audio industry and his views on important challenges for the BBC to tackle to remain relevant and valuable. Nina Hartstone, the Oscar-winning sound editor of the film Bohemian Rhapsody, then told us how she recreated the electric atmosphere of the iconic 1985 Live Aid concert and seamlessly blended the voices of Freddie Mercury and Rami Malak. The attention to detail in production was hugely impressive. The pioneering wildlife sound recordist Chris Watson talked about his work bringing us the sounds of the natural world. He sat in front of a table of microphones, showing us some of his favourites, including a clever technique using a wire coat-hanger, and played an array of magical evocative recordings.
LJ had fun with Tanzy Leitner and Spencer Marsden from the BBC Blue Room talking about the use of AI in music composition. They ran through a set of four demonstrations and asked what this means for the future of music.
This was a discussion session with leading experts from the games industry, featuring clips of their work and giving insights into the unique challenges of non-linear storytelling and what broadcasters can learn from it. The session featured: Tess Tyler - an award-winning composer for games, from indie hits to AAA LEGO titles, Omar Khan - composer for the Bafta-winning sci-fi thriller game Observation, and Sam Hughes - sound designer on AAA game Control.
---
Day Two
This session of three talks was all about rethinking accessibility and personalisation of audio and featured leading academics that we work with through the Audio Research Partnership. Our former colleague Lauren Ward discussed her work with Casualty and object-based audio to allow personalised control of the clarity of the sound mix to meet the individual needs and preferences of audience members. She also covered the important subject of cake. Lauren's colleague at the University of York, Mariana Lopez, explored what TV and film productions can do to improve accessibility for visually-impaired people by rethinking audio description as an integral part of the creative process. Finally, Alexis Kirke discussed the Radio Me project, which aims to use artificial intelligence and sensor devices to transform live local radio into a personalised, responsive service that can help those living with dementia.
Nicky Birch has been working with the BBC's Voice + AI team over the last year, taking a break from her role in BBC Research & Development. In this session, she talked about whether the huge growth in voice-controlled devices will transform our relationship with how we listen to the radio and asked if, as producers, should we be changing and adapting the radio we make to fit this new way of listening?
We wanted to showcase people's amazing work done during difficult times in lockdown to keep us informed and entertained. Broadcaster and choirmaster Gareth Malone joined us to share his efforts to bring people together through singing, mostly from the studio in his garden shed. Kaye Dunnings (Creative Director of Lost Horizons and Shangri-La) gave us a fly-by tour of Lost Horizons, a 'real festival in a virtual world' that was created in VR in place of Glastonbury 2020. Kaye told us about future plans for other virtual music festivals. The creators of the award-winning satirical comedy The Skewer, Jon Holmes and Tony Churnside gave us a characteristically choppy and hilarious review of their lockdown antics. Finally, Ben Shirley of Salsa Sound showed us their innovative vCrowd tool that allows broadcasters to fill in the eerie quiet of empty sports stadiums with exciting realistic sounds of crowds. Overall, it was a fascinating insight into the creativity and innovation that has gone on this year.
---
Day Three
The final day focussed on the success of podcasting. It started with a panel discussion of audio commissioners, featuring Emmanuella Kwenortey (BBC Sounds), Jon Manel (BBC World Service), Lianne Alie (BBC Sounds), and Brett Spencer (Bauer Media). We heard clips of some of their favourite commissions and their recommendations for exciting work from across the industry. They revealed what they're looking for in new commissions and touched on important themes such as building a community around a podcast, the importance of authenticity and increasing the diversity of perspectives and styles in commissioning. It was a really lively and candid discussion that revealed a lot about the process of commissioning.
Our good friend Cathy Robinson returned to Sounds Amazing to discuss her brilliant work on immersive storytelling. She shared clips from her innovative binaural productions, such as the powerful Hearing Homelessness. She also talked about her exciting work with our Audio Orchestrator tool to create Monster which will be released next week (expect more on that very soon).
The final session of the conference featured some of our leading podcast producers, James Robinson (Shreds, Tracks, The Bomb), Helena Merriman (Tunnel 29) and Dan Maudsley (Paradise). They gave detailed breakdowns of the production processes and their creative decisions that have led to hugely popular and award-winning work. I was totally gripped by this final session as it featured some of my favourite podcasts from the BBC in recent years and I thoroughly recommend it.
---
Thoughts on running an online event
We started running showcase events like this back in 2011, with the launch of the BBC Audio Research Partnership. The idea has always been to bring people together from across the audio industry, both technical and creative, and to highlight great ideas and trends that people should be aware of. In 2015, we ran Sound: Now & Next in the Radio Theatre of Broadcasting House and we followed this up in 2018 with the first Sounds Amazing, in partnership with the BBC Academy. Those events were all really successful and sparked lots of ideas for new projects and programmes. Since last October we'd been planning to run another event in the Radio Theatre, but due to COVID-19, we had to adapt our plans and run it online.
There are definitely downsides to an online event. The chance to talk to people around a coffee about the fascinating ideas you've heard is no longer there and I also missed the chance to get hands-on (and ears-on) with demos. But being online has meant that more people could access the talks. We weren't limited to the number of seats in the Radio Theatre and people joined online from across the world. We decided to spread the programme out across three days, with plenty of breaks, because we know how fatiguing it can be to stare at a screen all day. This made it easier for people to fit things in around their other commitments too, but we felt that it was important to make all of the talks available to watch on-demand as well because life doesn't just stop. I hope you'll agree that this is a fantastic resource, giving a snapshot of the perspectives and trends in the audio sector in 2020 that everyone can access.
There were practical challenges to running the event in this way though. The contributors joined a Zoom webinar and the feed was streamed online using the BBC's great tool Silver for ad-hoc internet video streams, and we used the sli.do platform to manage Q&A with the audience. With people working remotely, the engineering team has limited control, and, despite rehearsals and checks, we occasionally had problems with audio levels and distortion or lovely binaural clips being played in mono. We pushed the platform hard with a very ambitious programme, but thanks to the skilled work of the BBC Academy production team and LJ's talent as a presenter, I think it came off really well. Our colleague Tom Parnell summed LJ's performance up nicely on Twitter:
@LJRICH presented #soundsamazing2020 perfectly: she's inclusive and natural, with intelligent and sensitive comments, summaries and questions, and I loved her witty piano illustrations and essential mood-building applause samples! Thank you LJ. Stunning visual style today too!

— Tom (@TomParnellMcr) October 16, 2020
I would like to end by thanking every member of the production team for Sounds Amazing individually because they deserve it, but also so you can see what it takes to put on an event like this:
Lalita Taylor - Event Producer
Charlotte Scott - Content Producer
Tom Speight - Executive Producer
Louise Brown - Project Manager
Ian Gardner - Broadcast Engineer
Piramo Vyas - Online Content Producer
Jana Nehrizova - Production Support
Emily Buchanan - Video Producer
Jonathan Allan - Video Editor
Rishi Kapoor - Graphic Design
Cat Bell - Internal Comms
Scott Cawley - Social Media
Sarah Mines - Comms Lead
BBC R&D - Sounds Amazing 2018: An update on audio at the BBC
---