An Interactive Dating Drama for Smart Speaker and Mobile: 5 Days, 5 Dates
5 Days, 5 Dates is an interactive audio drama about dating that plays out across two devices – a smart speaker and a mobile phone. The main character in the story is Noelle, who has to find a date to take to her sister's wedding in five days. You play her flatmate who helps her choose which dates to go on; the dates take place over five nights in the form of five short audio episodes.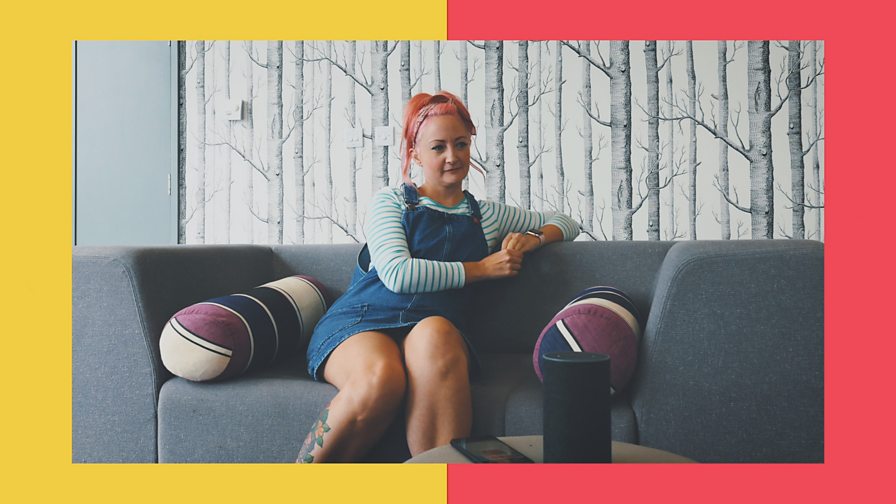 As you eavesdrop on your flatmate Noelle's date through the smart speaker, you receive texts from Noelle asking what you think about how the date is going. You can respond with texts, a Whatsapp style voice message and even a phone call. What you say is analysed for sentiment, and this affects the flow and outcome of the date.
As this was a prototype, we made only one episode of what would have been a 5 episode experience.
Why We Made It
The objective was to explore new forms of storytelling and test audience interest and reaction to being delivered content across multiple devices.
Our team have previously been exploring what the BBC could do with smart speakers and voice interaction, producing branching narrative stories like The Inspection Chamber and the long-form randomised story, The Unfortunates. Our research from these voice stories has shown that audiences were split evenly between those who preferred a more linear listen and those who wanted more interaction over a shorter period. These audiences wanted more agency, more interaction points, more realistic conversation and an easy to understand format.
BBC R&D - The Unfortunates: Interacting with an Audio Story for Smart Speakers
As makers, we had grown tired of the branching narrative format as the only way to deliver interactive drama and wanted to test other methods of getting people to participate in dramas beyond just asking them to choose path a or b. By using different types of interactions, we were able to test whether attention and focus can be maintained while listening to an audio story through a speaker while simultaneously interacting on a mobile phone.
We also wanted to focus on young audiences, thinking about how new approaches to storytelling, on everyday devices, could address the BBC's problems in appealing to young people.
The Approach
Alongside the BBC's Voice+AI team we ran a collaborative hack session, with developers, writers, UX designers and producers all charged with creating an experience that worked across two devices that used your voice, was aimed at young audiences and centred around dating.
We wanted more freedom than the smart speaker platforms could offer, luckily, we already had a prototyping platform called Neue-Radio to prototype ideas for connected radios. By adding voice control to Neue-Radio, we were able to try things we can't do on existing voice platforms, for example, not needing a wake word to begin, and being able to record participants conversations. This offered us much more creative freedom.
After the design hack, we developed one of the prototypes further by working with scriptwriters Nosa Eke and David Verala, both experienced interactive writers. We set them a brief to concoct a five-part series, that appealed to a young female audience, though in reality we would only record and build the first episode to test on audiences.
Meanwhile, our team of engineers in Research & Development set to work trying to realise how to create meaningful interactions.
BBC R&D - Prototyping for Voice UI

BBC R&D - Prototyping for Voice: Methodology
The Interactions
As one of the key objectives was to test out different types of user interactions, we settled on three.
SMS - Text messages & images send to the user
Noelle gives additional context to the date - such as images of the dates hat, his cat. Sometimes she asks for the user's opinions. An essential text response at the beginning is analysed by sentiment analysis which affects the story path.
Voice Message - User can record and leave a voice message
The message is later played back by Noelle - the user hears their voice in the story. (Played back on the speaker)
Phone Call - Noelle calls the user
At the end of the date, Noelle wants a decision to either see the date again or dump him. The user's voice response is an analysed by sentiment, which affects the conclusion of the story.
Collaborative Working
As this drama was focussed on young audiences, we wanted to engage young people in the project from the outset. We set up a working collaboration with the National Film and Television School, so students on the Masters in creative producing for digital platforms course attended creative workshops and took part in user testing throughout the process.
How We Made It
When we built our smart speaker dramas, we created a publishing tool called Orator, (an interactive audio story creator which is now being used in smart speaker skills like Cbeebies). Orator is a node-based graph editor that allows users to make branching path decisions via voice. For 5 Days, 5 Dates we expanded its capabilities so now decisions can be made from more than one source, phone or any other internet-enabled device.
What We Learnt
We ran a series of detailed user tests with people who have some experience with interactive fiction. 5 Days, 5 Dates tested really well with this audience. The novelty of the format and the use of technology was appealing and relevant to all of the participants:
"You know its not a real conversation because of the technology - but if you've got enough imagination, it could feel real."
Many people said they would like to 'play' an episode of 5 Days, 5 Dates with their friends. This was discussed in a social & fun context. Comparisons were also made to their recent experience with the Black Mirror episode Bandersnatch on Netflix, which they viewed with friends and participated in decision making.
Participants liked the story; they related to the theme of dating and found parallels within their own lives. The use of the mobile phone and its familiar functionality (SMS) tested very well. The phone call and voice message had mixed response - but created immersion. The majority of participants were able to multi-task while listening and understanding the story.
There is a full write up of the user testing report here.
Next Steps
We now need to show this off to content creators and think about what other genres/stories you can do with this kind of storytelling. We want programme-makers to get excited about it and talk to us if they have a spark of an idea they want to develop with our help.
BBC R&D - Emotional Machines: How Do People Feel About Using Smart Speakers and Voice-Controlled Devices?