Main content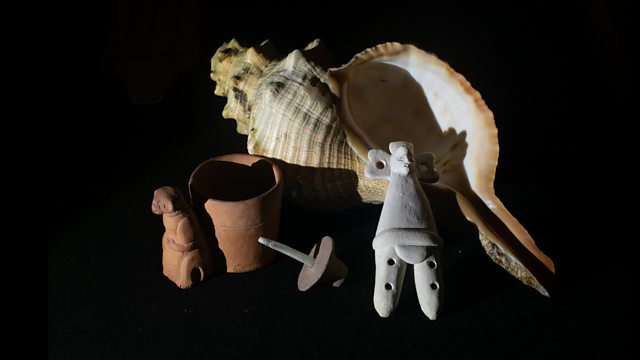 What does history sound like?
Musician Xiuhtezcatl meets the people breathing life into ancient indigenous Mexican instruments. Can they help contemporary Mexicans connect with their past?
Indigenous cultures have been suppressed since Europeans first arrived in Mexico. But increasingly, modern Mexicans want some sort of connection with their indigenous past.
At its height, the ancient Mexican city of Teotihuacan had 100,000 citizens and was the largest city in the Western Hemisphere. But the civilisation had no written language, and the sudden disappearance of its population is largely unexplained. Luckily, the civilisation left behind the remains of instruments. Adje Both and Osvaldo Perez are an academic and a potter that are part of a global network of musicians, instrument makers and archaeologists that are piecing these instruments back together and recreating them. In doing so, they can breathe life back into these lost instruments and rediscover the sounds of these ancient cultures.
But for the indigenous cultures of Mexico, who are still oppressed, dispossessed and marginalised, these instruments take on a more significant meaning. Xiuhtezcatl is based in LA, but his father is Mexica - an indigenous group that used to rule the Aztec empire - and the instruments are a visceral link to his ancestors. Using the work of Adje and Osvaldo and matching it with digital manipulation, Xiuhtezcatl goes back in time and tries to discover what history sounds like.
Image: A collection of instruments (Credit: Tolly Robinson)
Last on
Broadcasts
BBC World Service

News Internet

BBC World Service

except Americas and the Caribbean