Main content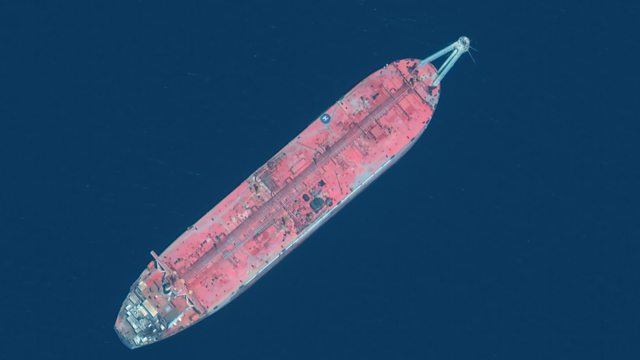 The race to stop a Red Sea oil catastrophe
The UN wants businesses to help raise $80m to prevent a huge oil spill off the coast of Yemen. The FSO Safer, a floating storage vessel, could explode or disintegrate any time.
One of the many casualties of the war in Yemen is the FSO Safer, a floating storage facility which holds one million barrels of crude oil. No maintenance has been carried out on the vessel for years, and experts believe it's in danger or exploding or leaking oil in to the Red Sea at any moment.
The UN has previously unsuccessfully tried to resolve the issue, but David Gressly, the Humanitarian Coordinator for Yemen, thinks the next few weeks could be vital, and is calling on the private sector and individuals to help fund an operation to transfer the oil to a safer vessel.
We hear from Tim Lenderking, US Special Envoy for Yemen, Ghiwa Nakat of Greenpeace Middle East and North Africa and Yemen's Minister for Water and the Environment Tawfeeq Al Sharjabi.
Presenter: Hannah Bewley
Producers: Hannah Bewley and Sumaya Bakhsh
Image: The FSO Safer from above; Credit: Getty Images
Last on
Broadcast

A year of Covid in Nairobi: Josephine's story