Main content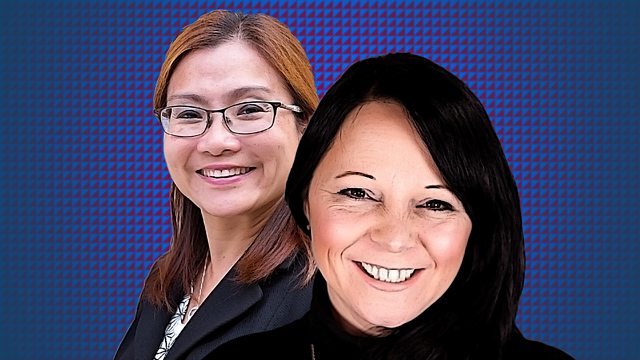 Sold into sex work
Kidnapped and trafficked for sex. Shandra Woworuntu and Timea Nagy tell Kim Chakanetsa about how their personal experience helps them support trafficked women.
Over 79% of the world's trafficking victims are subject to sexual exploitation, and an overwhelming number of them are women and girls. Kim Chakanetsa speaks to two women who not only survived and escaped that experience, but have gone on to change laws and create support networks for fellow survivors.
Shandra Woworuntu was a successful Indonesian banking analyst but lost her job when her firm ran into trouble. She applied for a job in a Chicago Hotel for six months to tide her family over - but when she arrived she was handed over to a trafficking ring. After months of forced sex work, she was able to escape her kidnappers by jumping out of a bathroom window. She went on to successfully prosecute her traffickers in court, and is now a campaigner against trafficking. She is the founder of Mentari USA, a non-profit organisation which helps survivor reintegrate with society.
Hungarian Timea Nagy grew up as the daughter of a strict policewoman, but became trapped in a trafficking circle after applying to become a baby-sitter in Toronto. Hours after her arrival, she was forced into sex work. Timea escaped home to Hungary after three months, but later returned to Canada to indict her traffickers. She has gone on to train police in Canada helping trafficking victims, as well as educating the financial sector on its role in preventing modern slavery. She is the founder of Timea's Cause, a for-profit organisation which employs survivors.
Produced by Rosie Stopher
IMAGE
(L) Shandra Woworuntu, credit Calvin Voon
(R) Timea Nagy
Last on
BBC World Service
except East and Southern Africa
Broadcasts
BBC World Service

except Australasia, East Asia & South Asia

BBC World Service

Australasia, South Asia & East Asia only

BBC World Service

except Europe and the Middle East

BBC World Service

Europe and the Middle East

BBC World Service

except East and Southern Africa