Main content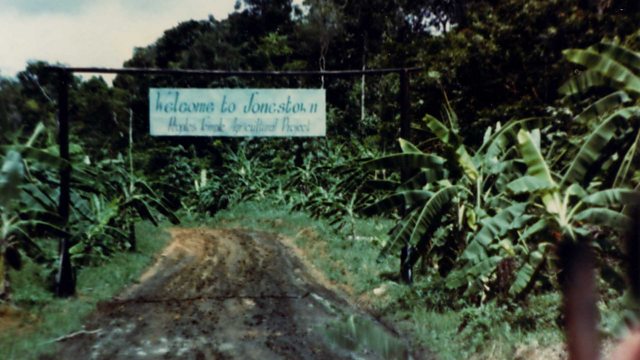 Jonestown: From socialism to slaughter - Part two
How over 900 Peoples Temple members came to die in the Guyanese jungle.
In 1978, over 900 US citizens died at Jonestown, a remote settlement in Guyana. The vast majority were members of a community run by the charismatic Rev Jim Jones, taking their own lives with poison under armed guard on his orders. But how did a church known for racial integration and practical help for the poor come to such a destructive end? How could one man's increasing paranoia have driven so many people, who had built a mission community from nothing in four years, into a seemingly pointless sacrifice?
In this second and final programme, Erin Martin – who herself grew up in a controlling religious group – hears from ex-members of Peoples Temple who explain how steadily increasing isolation made it so hard to leave the organisation. Vera Washington describes how she and seven others had to accelerate their escape plan when a leadership spy heard of it, and Jordan Vilchez relates how a faked assassination attempt on Jim Jones was used to reinforce their sense of threat from outside.
The move to the Guyanese jungle meant escape was almost impossible - Jim Jones' son, Stephan, and a few others survived because they were on a visit to the capital, Georgetown. But could Jonestown have had a future? Tim Carter imagined paved streets and seeing his grandchildren there. And John Cobb still feels that if he hadn't been in Georgetown with Stephan on November 8th, 1978, he could have prevented what was, before 9/11, the largest intentional loss of civilian lives in American history.
Producer: Paul Arnold
(Photo:Main entrance to Jonestown, with welcome sign over the road. The sign reads Welcome to Jonestown, on the top line; the next line reads Peoples Temple Agricultural Project, May 1978. Credit Jon Moore/The Jonestown Institute).
Last on
Broadcasts
BBC World Service

Australasia, South Asia & East Asia only

BBC World Service

Americas and the Caribbean

BBC World Service

except Australasia, East Asia, News Internet & South Asia

BBC World Service

except Americas and the Caribbean & Europe and the Middle East

BBC World Service

except East Asia, Europe and the Middle East & South Asia

BBC World Service

News Internet