Main content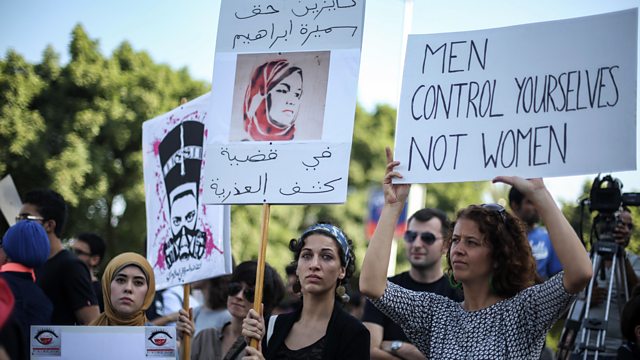 Is this Egypt's #MeToo moment?
Salma El-Wardany on the movement calling out the culture of sexual assault in Egypt.
Egypt is currently in the midst of a growing movement calling out the culture of sexual assault that's rife in the country. A UN study showed 99.3% of Egyptian women have experienced sexual harassment or violence, and although women's rights activists have been campaigning for years, there continues to be victim blaming surrounding women and a lack of prosecutions. However, a recent high profile case of one man who allegedly sexually assaulted and blackmailed several women was brought to the public's attention due to an Instagram account called Assault Police which shared victim's testimonies. It's encouraged more women to speak out about their own experiences. And significantly, the religious authority, the Al Azhar Mosque published guidelines against assault, specifically stating what women wear is not an excuse.
Salma El-Wardany, a UK based Muslim writer and poet, was born in Egypt and wants to uncover what impact this largely online movement is having. Will it create a lasting change in Egyptian society and result in prosecutions?
Salma will talk to the key women fighting for change, and the male allies using their platform to speak out. She'll hear from Nadeen Ashraf, the young woman behind Assault Police, and Sabah Khodir who's offering practical support and guidance for victims. Plus she'll speak to Omar Samra a well-known adventurer who's encouraging men to take responsibility for their actions. She'll hear from Human Rights Watch about their concerns over women's rights in the country, and she'll speak to Egyptian American journalist Mona Eltahawy about her hopes for a feminist revolution.
Producer: Miriam Williamson
(Picture: Egyptian women hold signs during a protest against sexual harassment in Cairo, Egypt, June 2014 / Credit: Ahmed Ismail/Anadolu Agency/Getty Images)
Last on
BBC World Service
South Asia, News Internet, Europe and the Middle East & East Asia only
Broadcasts
BBC World Service

except News Internet

BBC World Service

except South Asia

BBC World Service

except East and Southern Africa & West and Central Africa

BBC World Service

East and Southern Africa & West and Central Africa only

BBC World Service

News Internet

BBC World Service

Americas and the Caribbean

BBC World Service

except Australasia, East Asia, News Internet & South Asia

BBC World Service

except Americas and the Caribbean & Europe and the Middle East

BBC World Service

News Internet

BBC World Service

South Asia, News Internet, Europe and the Middle East & East Asia only