Main content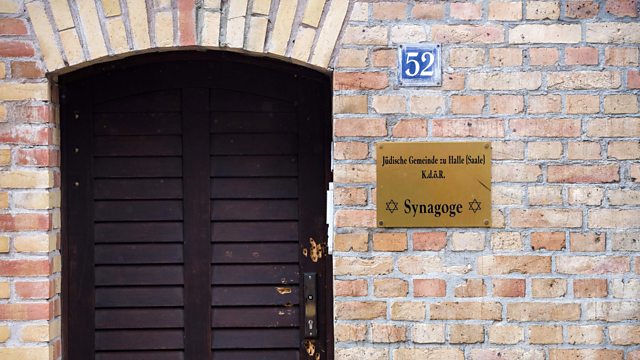 Testifying against a Neo-Nazi
Two friends discuss standing up to someone who wants to kill you because of your faith.
On the 9th of October, 2019, Mollie S. a Baltimore native, was observing the holiest day of the Jewish calendar, Yom Kippur in the city of Halle, Germany. She decided to take a short break and go for a walk during the proceedings. Moments later a then 27 year old neo-Nazi named Stephan Balliet attempted to bomb the Synagogue and later on a Kebab Shop. Mollie returned to the Synagogue shortly after and saw a body wrapped on the street outside.
On this day, Amie Liebowitz received an unexpected text from her friend Mollie. Mollie lives in Berlin and messaged her to say that she was a victim of the attack but was okay and looked after.
Mollie and Amie kept in contact. They had always been close friends but Amie wasn't aware of the full extent to which Mollie had been affected and was diagnosed with Post-Traumatic Stress Disorder (PSTD). In August 2020, Mollie asked Amie if she would be her support person as she testifies against the neo-Nazi in Magdeburg, Germany.
From catching the train in Berlin together to the court proceedings, practicing her testimony the night before and retracing her steps in Halle, these two friends have a honest discussion about what it's like living with trauma and standing up to someone who wants to kill you because of your faith.
Executive Producer: Rajeev Gupta
(Picture: Damaged entrance door to the synagogue in Halle (Saale),Germany, July 2020 / Credit: JENS SCHLUETER/AFP via Getty Images)
Last on
BBC World Service
News Internet
Broadcasts
BBC World Service

except News Internet

BBC World Service

except Americas and the Caribbean

BBC World Service

except East and Southern Africa & West and Central Africa

BBC World Service

East and Southern Africa & West and Central Africa only

BBC World Service

News Internet