Main content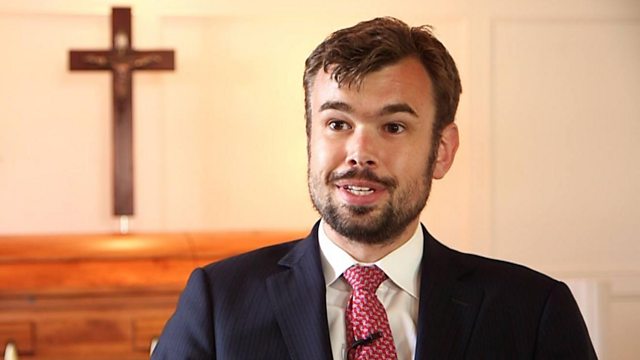 Burying the dead in New York City
Funeral director Clive Anderson has been struggling to deal with new Coronavirus cases.
New York funeral director Clive Anderson has been struggling to keep up the sheer volume of new Coronavirus cases coming to his small funeral home in Pelham, New York. Normally he would average four funerals a week, now he is doing six a day.
On the front line, the work has taken a toll on Clive. He broke down recently after a family called him from miles away that had lost a grandmother and none of the eleven funeral homes in their area could help them. So Clive drove for almost two hours to collect the body.
A man of strong faith, Clive only recently converted to the Catholic faith, and his baptism was scheduled for Easter. That, of course, was cancelled and over the phone, a monsignor told Clive he was now 'Baptised by desire', a term where a person can receive the fruits of baptism even if they have not had the official ceremony.
This recent conversion couldn't have come at a more appropriate time in Clive's life, for years he has been struggling with faith and religion. He grew up in a home-based religious movement which has no official name but is nicknamed the 'Two by Twos' in the south of Ireland. This controversial group has been the subject of documentaries around the world, with many calling it a cult.
After his father died when he was 15, Clive's heart was set on becoming a funeral director.
In this programme we will hear Clive talk at his home about growing up in the mysterious 'Two by Twos' and how that group shaped his view on religion and on the world. We visit his funeral home in Pelham to witness the huge number of people coming through as a result of the Coronavirus.
We take a fishing trip with Clive on a lake in upstate New York, away from his funeral home, to talk about how he copes with the very difficult work that he does, and how his newfound faith in Catholicism, has brought him strength and peace in these extraordinary times.
Last on

Broadcasts
BBC World Service

East and Southern Africa & West and Central Africa only

BBC World Service

East and Southern Africa & West and Central Africa only

BBC World Service

except East and Southern Africa & West and Central Africa

BBC World Service

News Internet