Main content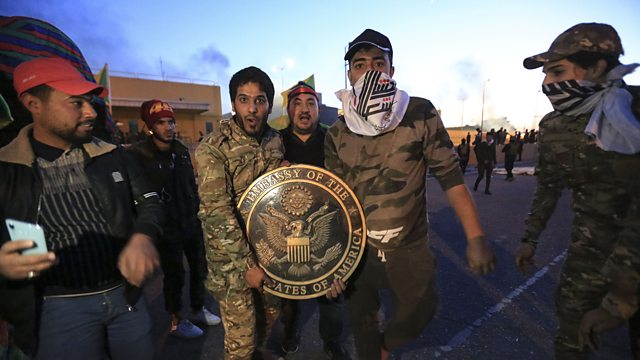 Iran's long game
How top military commander Qasem Soleimani helped advance Iranian national interests.
On 3 January 2020 Qasem Soleimani – Iran's top military commander - was killed in a US drone attack in Baghdad. The so-called architect of Iran's foreign policy in the Middle East, Soleimani was responsible for Iran's political, economic and military involvement in Iraq, Syria, Yemen and Lebanon. And in all those places he oversaw a growth of Iranian power. Despite many Iranians demanding vengeance for Soleimani's death, Tehran's response was muted – rather than launch major attacks on US targets, it chose instead to use Soleimani's death to build support in Iraq for the ejection of the US's remaining 5,000 troops from the country. For Washington, it was not supposed to play out like this. When the United States invaded Iraq in 2003 to oust Saddam Hussein, President Bush said he wanted to create a beacon of democracy in the Middle East and keep Iran – at loggerheads with the US for decades and part of his axis of evil – in check. But America underestimated the supposedly irrational regime in Iran which used proxy militias to frustrate the US forces in Iraq. After billions of US dollars were spent and thousands of American lives lost, it is Iran that now has most influence in Iraq.
Owen Bennett Jones goes back to 1988 when Iran was forced to accept a UN-brokered ceasefire in its bitter eight-year war with Iraq. He charts the complex interplay between Baghdad, Tehran and Washington ever since. Even opponents of the Iranian regime described Qasem Soleimani as a giant who had helped defend and advance Iranian national interests and as someone who took on the greatest power on earth – and seems to have outwitted it.
Photo: Iraqi protesters pose with a US Embassy plaque as they storm the US Embassy in Baghdad, protesting Washington's attacks on armed battalions belong to Iranian-backed Hashd al-Shaabi forces. Credit: Murtadha Sudani/Anadolu Agency/Getty Images)
Last on
Broadcasts
BBC World Service

East and Southern Africa & West and Central Africa only

BBC World Service

except Australasia, East and Southern Africa, News Internet & West and Central Africa

BBC World Service

except East and Southern Africa & Europe and the Middle East

BBC World Service

Europe and the Middle East