Main content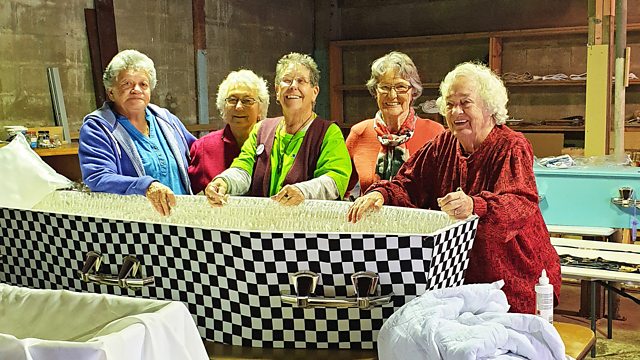 The Coffin Club
Meet the New Zealanders making an art-form out of coffin creation.
In 2010, Katie Williams – a former palliative care nurse – started the first Coffin Club in her garage. The idea was that elderly New Zealanders would come together to sand, assemble and decorate their own coffins. Word got around and now - nearly a decade later - The Coffin Club, Rotorua, is a huge success and has inspired spin-offs around the world.
Award-winning documentary-maker Cathy FitzGerald visits Katie and meets club members. Many have lost partners and friends and come to the meetings for company. But the atmosphere's not sad or stuffy; this is a place for fun and laughter. Coffin designs have included a canoe, a replica of Dr Who Tardis, and a golf course, complete with hole and flag. No matter how ambitious – The Coffin Club, Rotorua, will rise to the challenge.
Producer: Cathy Fitzgerald
(Photo: Hard-working coffin liners. Credit: Katie Williams/The Coffin Club of Rotorua)