Main content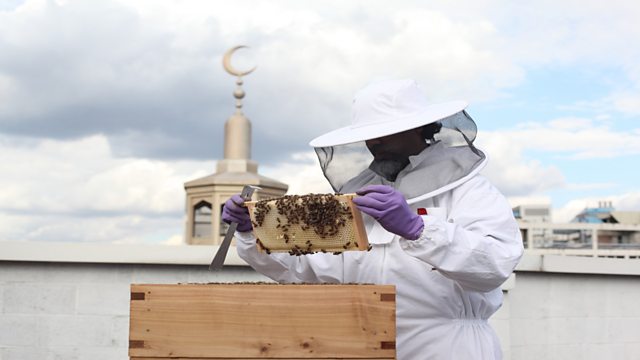 Praise bee
The Bee which is revered in Judaism, Islam and Christianity
"And your Lord inspired the Bee, build your dwellings in hills, on trees, and in (human's) habitations." (Qur'an 16:68).
The bee has its own Surah or Chapter in the Qu'ran, it is revered in the faith for its diligent hard work and production of life-giving honey.
The prophet Muhammed spoke about bees and honey. 'The believer is like a bee; her food and deeds are pure and wherever she goes she neither causes destruction nor corruption'. For many Muslims bees are not just intelligent, they are also in communication with God. 'God inspires them and guides them as he inspires and guides believers.'
Starting the programme on the roof of the East London Mosque, Farrah Jarral explores the spiritual importance of the bee in Islam and across other faiths.
Yossi Aud tells us how the bee is being used for peacebuilding. He runs the Bees for Peace project just outside of Jerusalem which brings together people from different sides of a divided society.
The bee is a symbol that connects people all over the world. From Jerusalem to Manchester, where the bee has become a powerful symbol after the Arena bombing in 2017. Farrah meets Adrian Rhodes, Chaplain at Manchester Cathedral who looks after the bees on the roof of the Cathedral and describes what they mean to him personally
Presenter: Farrah Jarral
Producer: Geoff Bird
Image of Khalil Attan Courtesy of East London Mosque
Last on
Broadcasts
BBC World Service

except News Internet

BBC World Service

East and Southern Africa & West and Central Africa only

BBC World Service

except East and Southern Africa & West and Central Africa

BBC World Service

News Internet