Main content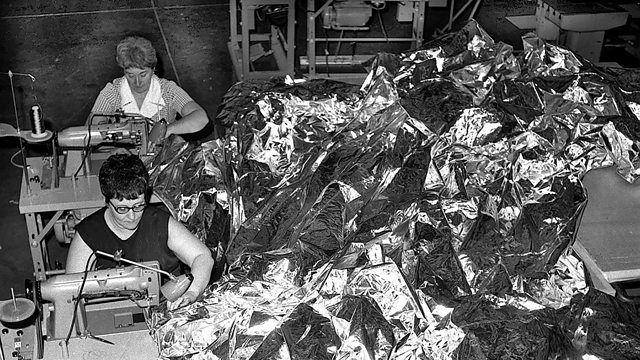 Hey Sisters, Sew Sisters
The seamstresses who sewed soft goods components for space craft and space suits.
Space travel is not always high-tech. When the Apollo astronauts landed on the Moon in 1969, seamstresses made their spacesuits at a company famous for stitching latex into Playtex bras.
During the Space Shuttle era, a group of 18 women were in charge of all soft goods - the fabrics for machine and hand sewing the spaceplane's thermal blankets. These women became known as the Sew Sisters.
Presenter, artist and former Nasa astronaut Nicole Stott meets some of these 'sew sisters' from past and present missions and celebrates their contributions.
Their work, and that of seamstresses before them, was often a matter of life and death yet was not always taken seriously. Engineers would drop by to ask the women to hem their pants or sew their buttons on but they were doing difficult work.
They used ceramic thread to stitch fibre glass-backed quartz fabric around the edges of doors, ports and the bottom of the Space Shuttle's three engines to provide a thermal barrier where components came together. In private the women called themselves the 'Itch, Stitch and Bitch Club' because the fabric was so itchy.
Hand sewing is not consigned to the past either. Recent images from Saturn were from a spacecraft with cut, stitched and fitted gold and black thermal blankets and the BepiColombo mission, currently on its way to Mercury, involves hand sewing.
(Photo: SkyLab seamstress sewing space suits for astronauts. Credit: Nasa)
Last on
BBC World Service
except East and Southern Africa & West and Central Africa
Broadcasts
BBC World Service

except News Internet

BBC World Service

Australasia

BBC World Service

East and Southern Africa & West and Central Africa only

BBC World Service

except East and Southern Africa & West and Central Africa

New Year's Day 2020

02:32

GMT

BBC World Service

except West and Central Africa

New Year's Day 2020

03:32

GMT

BBC World Service

West and Central Africa

BBC World Service

Americas and the Caribbean, UK DAB/Freeview, News Internet & Online only

BBC World Service

News Internet

BBC World Service

except East and Southern Africa & West and Central Africa

BBC World Service

East and Southern Africa & West and Central Africa only

BBC World Service

except East and Southern Africa & West and Central Africa