Main content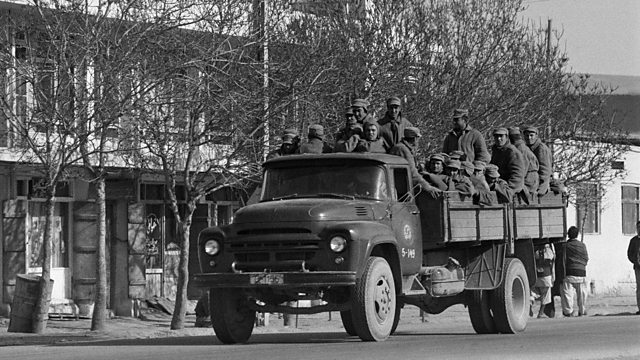 Time has chosen us
The Soviet War in Afghanistan told through its teenage soldiers and their music.
The story of the Soviet war in Afghanistan told through its teenage soldiers and the music they created. The ten year conflict from 1979 to 1989 was one of the most dramatic and consequential wars of modern times. It saw the end of an empire, and triggered a political shockwave that we still live with today.
Time Has Chosen Us tells the story of this under-examined war through the oral histories of Soviet soldiers who reveal honest, sad and funny accounts of their teenage years on the frontlines.
These young soldiers created music to play to one another, and recorded it on tape recorders, which were forbidden at home but easy to find in Kabul. We hear songs rich in poetry and imagery as well as sharp-toothed satire and ballads of disillusionment.
When the Soviets finally returned defeated to the USSR, the homeland they had fought for was fast disintegrating. Very many never made sense of the new order, turning instead to drugs and alcohol and never quite falling out of love with Afghanistan and the bitter brotherhood of war.
(Photo: Soviet troops being transported in Kabul, Afghanistan on 31 December 1979. Credit: Getty Images)
Broadcasts