Main content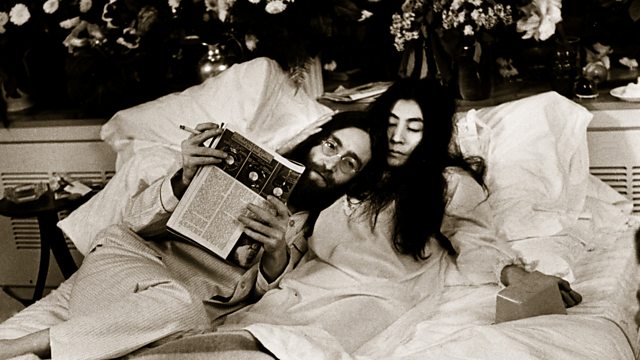 Giving peace a chance
Francine Jones returns to the scene of John Lennon and Yoko Ono's 1969 bed in for peace.
Francine Jones was a young attaché at the Queen Elizabeth Hotel in Montreal when John Lennon and Yoko Ono held their week-long bed in for peace there 50 years ago. She was one of dozens of young people who were inspired by the bed in protest and here she hears from several who joined John and Yoko for that week in spring 1969. She returns to the actual bedroom suite and reunites with others in the very room where the now famous peace anthem Give Peace a Chance was penned and first performed.
The protest happened during the height of the Vietnam War and followed a replica event at the Hilton Hotel in Amsterdam two months earlier.
We hear the voices of John and Yoko recalling their earliest musical memories in a lost and only recently re-discovered interview with young Radio Quebec reporter Gilles Gougeon who managed to record an extra-long discussion with the couple during the bed in.
Francine hears from Andre Perry who explains how, as a young 20-something, he ended up recording Give Peace a Chance.
Then 20 year old Allan Rock describes the surreal moment, having met John and Yoko at the bed in, he finds himself driving them around Canada's capital, Ottawa, singing Beatles' songs and stopping off to pin a note on the door of flamboyant Prime Minister Pierre Trudeau's official residence at 24 Sussex Drive.
Meanwhile Legendary British singer Petula Clark tells of her role in the bed in while Christine Kemp explains the painstaking process of having to prove to a museum half a century later that a quilt she'd donated to the protest was actually hers.
(Photo: John Lennon and Yoko Ono's "bed-in for peace" protest, at the Queen Elizabeth Hotel, 1969. Credit: Queen Elizabeth Hotel)
Last on
BBC World Service
News Internet
Broadcasts
BBC World Service

except News Internet

BBC World Service

Australasia

BBC World Service

East and Southern Africa & West and Central Africa only

BBC World Service

except East and Southern Africa & West and Central Africa

BBC World Service

except West and Central Africa

BBC World Service

West and Central Africa

BBC World Service

South Asia, Europe and the Middle East & East Asia only

BBC World Service

News Internet