Main content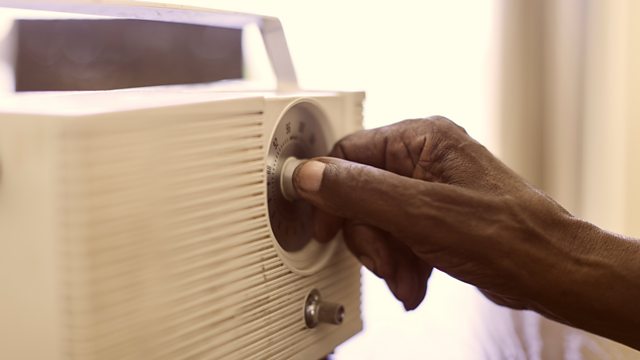 Comrade Africa
How Communist East Germany tried to influence Africa via radio during the Cold War.
How Communist East Germany tried to influence Africa via radio, during the Cold War. The West often saw the GDR as a grim and grey place, so it's something of a surprise to find a radio station based in East Berlin playing swinging African tunes. Yet Radio Berlin International (RBI), the 'voice of the German Democratic Republic', made it all happen over the many years it broadcast to Africa. It built on the little known strong bonds between East Germany and several large states in Africa such as Tanzania and Angola during the 1960s, '70s and '80s.
Dr Emily Oliver, a historian of postwar Germany from Warwick University, finds out why multicultural Radio Berlin International was a special place within East Germany and what happened behind the scenes. The government set tight reporting restrictions on output. Staff faced the dilemma of following the rules while competing with the likes of the BBC World Service. They were also conscious of the output of the station's main direct rival, West Germany's Deutsche Welle, which portrayed the world quite differently. And how did RBI employees coming from nations like Tanzania cope with working for the oppressive East German regime?
Emily hears how RBI appealed to listeners in Africa, reveals how East Germans and Angolans made friends over coffee and tractors, and discovers how the Cold War played out in Africa at a time when many African states were fighting for independence.
Presenter: Emily Oliver
Producer: Sabine Schereck
Researcher: Balthazar Kitundu
Editor: Hugh Levinson
Readers: Neil McCaul, Leone Ouedraogo (podcast only), Ian Conningham and Adam Courting
The Two Comrades: Will Kirk and Greg Jones
Photo: A hand turning a dial on a radio
Credit: Getty Images
Last on
Discovering the Multicultural Life within Communist East Germany
Growing up in West Berlin, I only knew East Berlin, in fact East Germany as a grey place that didn't allow its citizens to travel beyond the Eastern Bloc. In a way, it was cut of from the world. When someone remarked that there was a place in East Berlin that was truly multicultural, it piqued my interest. The place was Radio Berlin International (RBI), East Germany's foreign broadcaster and I started to venture into largely uncharted territory. It is hardly mentioned in any academic publication and the only existing book just highlights its achievements.
For East Germans, who could only dream of seeing foreign places like India, the Middle East, Africa, North and South America, or even merely the western part of Europe, working at Radio Berlin International was something special. When interacting with colleagues from abroad, they could get a glimpse of this wide world, which was otherwise denied to them.
Hannelore Steer had studied Swahili at Leipzig University in the 1960s and working at the station gave her the opportunity to actively use the language as otherwise - she admits - "with Swahili it would not have been so easy to find another job where you could use the language." Hannelore Steer had joined RBI's Africa Service only a few years after it was set up in 1964. Its aim was to present East Germany as a model socialist country 'in solidarity with the developing world', which included many countries in Africa, which had just gained independence from colonial rule.
In East Germany, engaging with the wider world came at a price: the output was tightly regulated and the limits to freedom of speech also prevailed at RBI, for example, it was impossible to refer to the severe travel restrictions in force, or to mention the fact that people who attempted to escape from the country risked being shot. Despite that strict control of the output, RBI's management practiced an element of trust as Heinz Odermann, who helped set up RBI in the late 1950s, remembers: "Editorial control was carried out by the executive editor. With us, the problem was that that editor – had to understand the language of the region we were broadcasting to – and that wasn't always the case. Who would have spoken Hindi? Or Swahili? Trust was an important factor, because our foreign colleagues had come on the basis of a similar ideology and so there was no reason for them to harm the GDR by exploiting their language skills to say something different to what had been agreed."
Heinz Odermann worked with Swedes, Danes, Britons and particularly with Arabs. He cherishes his time at RBI: "Everyday I dealt with the idiosyncracies of the different countries and although I still don't completely understand the Arab language, I do have an understanding of the their mentality, which is a great enrichment for me".
One event that encapsulated the multicultural vibe at RBI was the solidarity bazaar at the beginning of December, as Heinz Odermann recalls: "Everybody was to bring their traditional dish, which they did with great pleasure. The Arabs cooked, the Indians brought their food. The French offered an onion soup. The Swedes had their punch. I have learned from the Swedes how to say Skol, that means cheers." It was also fondly remembered by Hannelore Steer: "The Africans brought rice with a very hot sauce and meatballs. And the colleagues from the other radio stations came too to sample the delicacies."
Looking back Hannelore Steer says: "We didn't have that many colleagues from abroad. Partly because East Germany did not have that much hard currency, and possibly because the authorities were not keen on having too many people from abroad because they also brought their own way of thinking." This meant of course viewing the repression within the GDR rather critically.
At RBI the relationship between East Germans and their international colleagues was generally a closely knit one – quite different to what was the case in other parts of the country. Karamba Diaby came from Senegal to study in East Germany in the mid-80s. His experience was: "It was frowned upon to have too much contact with foreign students, especially those from non-socialist countries, because there was always the suspicion of espionage or the illegal exchange of foreign currency. The GDR citizens had been told that they had to demonstrate friendship between nations, but these contacts were partly artificial. You noticed that some were very reserved. Of course, some were envious of the foreign students, because some of them, I wasn't one of them, had foreign currency."
Before he arrived in the country, he knew that Germany was split into two states, a capitalist and a communist one. His image of the Eastern half was shaped by one of his teachers, who said "socialist countries are the countries, where everybody had the same toothbrush. Everybody has the same hat. Women all have the same skirts. I knew very little of everyday life and was surprised, for example, that everything was so perfectly organised. There was someone, who looked after you, and that was indeed something special."
Orphaned at the age of six, and lacking the financial support to study in Dakar, he was very grateful to receive a scholarship to study in East Germany and gain a degree in Chemistry. Yet, he admits "there have been unpleasant side effects that must not be omitted."
Providing mostly free training to young people from abroad, especially from the developing countries was part of East Germany's solidarity efforts, on which the country prided itself. These also saw East Germans travelling to countries like Angola, Tanzania, Ethiopia and Mozambique to help get the economy going. These were young countries, which had recently gained independence from colonial rule and favoured socialism. East Germans helped with the coffee harvest or send experts to facilitate access to large coal reserves as it was the case in Mozambique – of course, not without having East Germany's own economic interests in mind. What has become of these projects that were meant to be mutually beneficial? The reality was that projects often had to be abandoned or failed, because of an ongoing civil war in these countries, which prevented building a functioning infrastructure or the country had run out of funds. One legacy might be the personal encounters though. As East Germany could not compete with hard currency as the Western countries did, it often provided 'human capital' such as teachers, engineers and doctors.
By the late 1970s and early 80s, East Germany's economy was increasingly struggling. Following a difficult process many East Germans relocated to the West. It left a void in the workforce that needed to be filled. Contract workers from Cuba, Vietnam and particularly Mozambique were brought to the country with the promise of getting an education and a skilled job. This did not last long and they were right away placed in posts that required little training or were dangerous in terms of health. This group of foreigners were treated very differently to those mentioned earlier. In contrast to the socialist values of anti-racism and anti-apartheid that RBI sent over the airwaves, Mozambicans and other contract workers were kept in segregated housing, they were not to mingle with East Germans and their passport was taken off them so they could not travel.
When the Berlin Wall fell, the attitude towards these contract workers took a drastic turn. The restructuring of East Germany led to many jobs being cut and the contract workers were often the first to be dismissed. If they still had a job, they faced hostility from those who had lost theirs. The tensions that arose and their underlying causes were reported on with a baffling frankness by RBI in the summer of 1990:
"He [spokes person of the group Alliance 90/Greens] refers to the difficult situation that the 160 000 foreigners are in. He mentions that an escalation of attacks on foreigners has occurred in recent weeks and months and that the police responded half-heartedly and hesitantly. Attention was also drawn to the fact that factories asked for up to 22 000 foreign workers to be dismissed. There was also general agreement that the wrong foreigners policy of the former regime was responsible for the present situation. (…) About 160 000 from abroad live in the GDR that is even less than in West Berlin alone. (…) The problems stem from a society, (…) in which foreigners have never been integrated and the fact that it was never recognised as a problem, where international solidarity was rather practiced by a common decree and could never become firmly rooted in society, where the West was a forbidden, closed window and solidarity with the South was a dry political obligation but not a source of cultural enrichment for the individual.
Despite this profound change in reporting, RBI was the first of the East German radio stations that had to switch off its transmitters. This was on the 2nd October 1990, from the following day onwards Deutsche Welle would represent the reunited Germany to the world over the airwaves. This was not without regret as many argued that RBI offered an East German perspective of the reunification process, which differed from the West German one. West Germans certainly didn't experience the great upheaval that affected the lives of so many East Germans.     
"Two days later [in between was the bank holiday of reunification], we weren't even allowed to enter the premises anymore", recalls Hannelore Steer. "All the offices had to be cleared beforehand. It was all very chaotic. Nobody knows what had happened to the tapes, the archive, the programmes, we had put our hearts in."
RBI was housed in a big broadcasting complex alongside other East German radio stations. It's located in the south east of Berlin by the banks of the river Spree in peaceful surroundings. The building itself used to be a former furniture factory.
Hannelore Steer showed me and my presenter around: "Our studios were on the 1st floor of block A. We had four studios for RBI, P for production, P1,2,3,4. We were mostly in P4. And further down the corridor were studios for live programmes, which we used for broadcasting the news. The majority of the RBI staff had their offices on the 4th floor, that included the African Service, the English Service, the French Service, the one for South East Asia and the Middle East."
It is a long and wide corridor with offices on either side. The offices are very small, but bright and were shared by two people. Now that the doors are closed, it is very dark. Hannelore Steer explains: "Back then, it was not as dark. We generally kept the doors open and people communicated across the corridor. It was a good communication. It was good fun. In the corridor, we also had our solidarity bazaar and celebrations, we danced here... It was a great time."
On the premises there were also a polyclinic, a hair dresser, a small shop where you could buy bread and butter and things for daily life, Hannelore Steer: "The shop was important for people, when they had a late shift or worked at night, considering the area here is far away from the city centre and local amenities. Occasionally there were bananas and oranges and people would rush down to get some and sometimes buy for a few people at a time." In the early days, there was even a sauna and a bathhouse, where people could take a bath. She puts this into context for us: "You must remember, in those days, flats rarely had bathrooms."
Since broadcasting has ceased, the complex changed hands many times and was rarely used. Currently a music production school has set up home on the first floor of block A. The jewel within this broadcasting complex is the suite of studios designed to record music, including whole orchestras in block B, which was purpose-built in the 1950s when East Germany's broadcasting moved to the premises. It has been used by many international artists and events regularly take place.
After the painful experience of seeing RBI closed down, Hannelore Steer is glad that after 30 years life is returning to this place, which is filled with so many happy memories for her - as working at RBI was indeed very special.
Broadcasts
BBC World Service

except East and Southern Africa & West and Central Africa

BBC World Service

East and Southern Africa & West and Central Africa only