Main content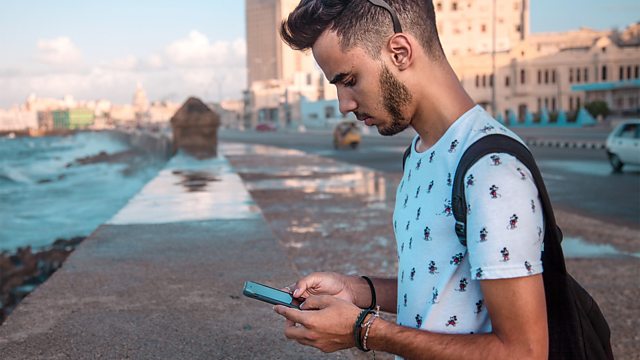 Cuba's digital revolution
Cuba is more connected than ever before. So how is the internet and social media transforming society? We meet the Cubans driving their country's rapid change.
A revolution is underway in Cuba. The country's communist leaders, who normally retain tight control of the media, have encouraged Cubans to become more connected online.
Internet access used to be the preserve of a privileged (and relatively rich) few. But prices have come down, public wifi spots are popular, and less than a year ago 3G data access became available on Cuban phones.
Along with a huge uptake in the internet has come a flood of Cubans signing up to social media accounts. Even President Miguel Diaz-Canel is on Twitter.
And unlike staid and traditional state-run media, Cuban social media is relatively open, freewheeling, full of jokes, criticism of the government and, of course, memes.
Prices are still high and the government keeps a close eye on dissidents or "counter-revolutionaries". But online, Cubans are exploring new ways to communicate that would have been unheard of just a few years ago.
The BBC's Cuba correspondent Will Grant and BBC Trending reporter Reha Kansara have been meeting the Cubans at the forefront of their country's digital revolution.
They meet political podcasters, a lesbian activist, a pro-government blogger, a gamer-turned-protester, a dissident journalist and one of Cuba's biggest YouTube stars.
How are Cubans making their voices heard in a way they never have before – and how might social media transform the country?
Presenters: Will Grant and Reha Kansara
Photo: A young Cuban standing by the waterfront in Havana accesses the internet on his phone.