Main content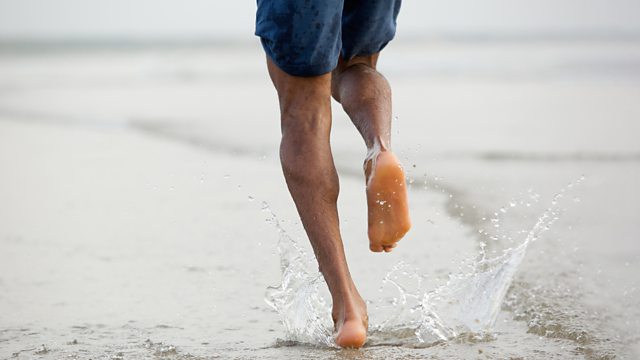 Is barefoot running better?
When we run without shoes, it can change our running gait, and the way our bodies move, so can it influence running pain and performance? Presenter Chhavi Sachdev finds out.
Shoes are a surprisingly recent human invention. But running isn't. That means for most of our time on the planet, we've run barefoot. Today, in most countries it's rare to see people out in public without shoes, let alone running. But might our aversion to the free foot be causing us pain?
CrowdScience mega-fan Hnin is an experienced runner, she enjoys ultra-marathons back home in Australia. But about six months ago she developed extreme foot pain, the condition 'Plantar Fasciitis', and this has meant she had to stop doing what she loves. She reached out to CrowdScience presenter Chhavi Sachdev, to find out if barefoot running could reduce her pain and improve her performance. Simply put, is barefoot running better?
In an attempt to find Hnin some answers, Chhavi hits the ground… running. Literally throwing off her own shoes on the streets of her home city of Mumbai, India, to see how feeling the ground can change her whole gait. And with Prof. Dan Lieberman, Chhavi learns what sets the human runner apart from other species while uncovering the strange form our feet have. She speaks with the Dr Peter Francis, a researcher whose life's work has focused on curing the pain in his own feet and learning how to help others.
But performance is also important for runners. Biomechanics and shoe expert Dr Sharon Dixon explains how modifications to the sports-shoe are helping marathon runners set records, and blade-running athlete Kiran Kanojia shows Chhavi how the technology behind her two prosthetic legs let her emulate either natural walking or natural running.
Presented by Chhavi Sachdev
Produced by Rory Galloway
(Photo: barefoot running on beach. Credit: Getty Images)
Last on
BBC World Service
East and Southern Africa & West and Central Africa only
Broadcasts
BBC World Service

except East and Southern Africa & West and Central Africa

BBC World Service

except East and Southern Africa & West and Central Africa

BBC World Service

East and Southern Africa & West and Central Africa only