Main content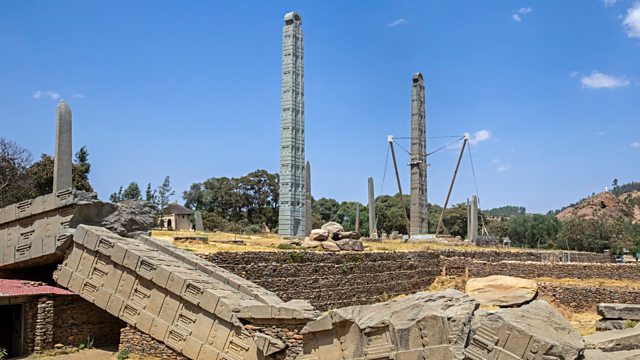 The Kingdom of Aksum: Africa's trading empire
Famous for its monumental stelae structures, archaeologists are beginning to discover more about the lives of the people who lived in this ancient state in the Horn of Africa.
At its height, the Aksumite Empire extended across the northern Ethiopian and Eritrean highlands, and even included parts of Sudan, Somalia and modern-day Yemen. From the first century BC to the seventh or eighth centuries AD it was one of the most important trading hubs in north-east Africa. It was also one of the earliest states in the world to adopt Christianity. In fact the Persian prophet Mani named the Aksumite Empire as one of the "four great kingdoms on Earth" together with Persia, Rome and China. But despite its power and reputation, we're only now beginning to understand more about the lives of the people who lived there.
Joining Bridget Kendall to discuss the Aksumite Empire and its legacy are Helina Solomon Woldekiros, Assistant Professor of Archaeology at Washington University in St Louis, Missouri; Felege-Selam Solomon Yirga, Assistant Professor of History at the University of Tennessee; and Dr. Niall Finneran, Reader in Historical Archaeology and Heritage Studies at the University of Winchester in the UK. He is author of The Archaeology of Ethiopia.
Produced by Jo Impey for BBC World Service.
Image: 4th century stelae in Aksum, Ethiopia
Image credit: Arterra / Marica van der Meer / Universal Images Group via Getty Images
Last on
Broadcasts
BBC World Service

News Internet

BBC World Service

except News Internet