Main content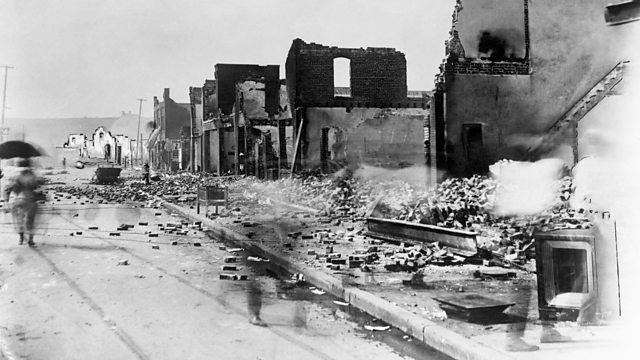 The 1921 Tulsa Race Massacre
Rajan Datar explores one of the worst episodes in the history of American race relations, and finds out why until recently it was rarely mentioned in history books.
Greenwood was an African American success story: a thriving, wealthy district of Tulsa. Over the course of two days at the end of May 1921 it was the scene of looting, rioting and murder. After 18 hours the area was razed to the ground by vigilantes. One eye witness said it looked like the world was coming to an end with bullets.
Nobody to this day has been able to establish the true number of deaths. Some put the figure in the hundreds, with casualties on both sides. The community rebuilt itself however, and today it's the focus of a multi-million dollar investment and education programme.
Joining Rajan Datar to examine the events of 1921 are Carol Anderson, the Charles Howard Candler Professor of African American Studies at Emory University and the author of White Rage; Hannibal B Johnson, lawyer and author of numerous books on the city's history including the forthcoming Black Wall Street 100: An American City Grapples With Its Historical Racial Trauma and John W Franklin, cultural historian and former senior manager at the Smithsonian National Museum for African American History and Culture in Washington DC. He's also the grandson of Buck Colbert Franklin, a lawyer and leading community figure who survived the massacre.
There is language in the programme which reflects the historical records and accounts recorded at the time of the events in Tulsa, which some listeners may find offensive.
(Image: The aftermath of the Tulsa Race Massacre at east corner of Greenwood Avenue and East Archer Street. Credit: Bettmann Archive/Getty Images)
Last on
Broadcasts
BBC World Service

News Internet

BBC World Service

except News Internet
Featured in...
Ideas, people and events that shaped cities, nations and civilisations