Main content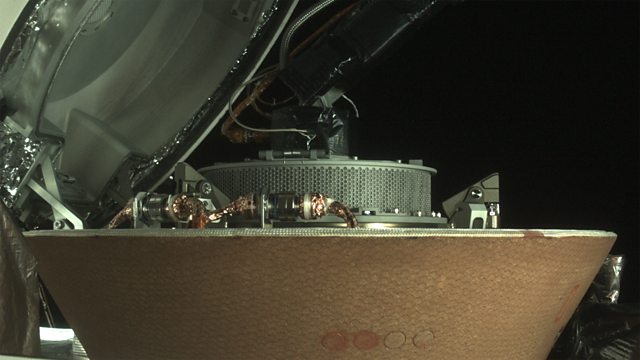 Osiris Rex stows asteroid material
Successful closure of lid on Osiris Rex spacecraft. And coronavirus, humidity and temperature; irrigation and health in Indian; and return of the dustbowl in American Mid-West.
Last week NASA's Osiris-Rex mission successfully touched down on asteroid Bennu's crumbly surface. But the spacecraft collected so much material that the canister wouldn't close. NASA systems engineer Estelle Church tells Roland Pease how she and the team back on Earth performed clever manoeuvres to remotely successfully shut the lid.
As winter draws on in the North, and people spend more time indoors, there's considerable debate about the conditions in which SARS-Cov2 is more likely to spread. Princeton University's Dylan Morris has just published research exploring the coronavirus's survival in different humidities and temperatures.
Indian agriculture in some areas uses vast amounts of water. Dr Vimal Mishra of the Indian Institute of Technology in Gandhinagar has discovered that this irrigation, plus very high temperatures, is causing not just extreme discomfort amongst the population but also more deaths.
In the 1930s serious dust storms over several years ruined crops and lives over a huge part of Midwest America. The dustbowl conditions were made famous by the folk songs of Woodie Guthrie and in John Steinbeck's novel Grapes of Wrath. Now a study in Geophysical Research Letters suggests that levels of dust have doubled in the past twenty years. Roland Pease asks researchers and farmers if they think the dust bowl is returning.
(Image: Getty Images)
Presenter: Roland Pease
Editor: Deborah Cohen
Last on
BBC World Service
East and Southern Africa & West and Central Africa only
Broadcasts
BBC World Service

Online, Americas and the Caribbean, UK DAB/Freeview, News Internet & Europe and the Middle East only

BBC World Service

Australasia, South Asia & East Asia only

BBC World Service

except East and Southern Africa & West and Central Africa

BBC World Service

East and Southern Africa & West and Central Africa only

BBC World Service

except East and Southern Africa & West and Central Africa

BBC World Service

East and Southern Africa & West and Central Africa only