Main content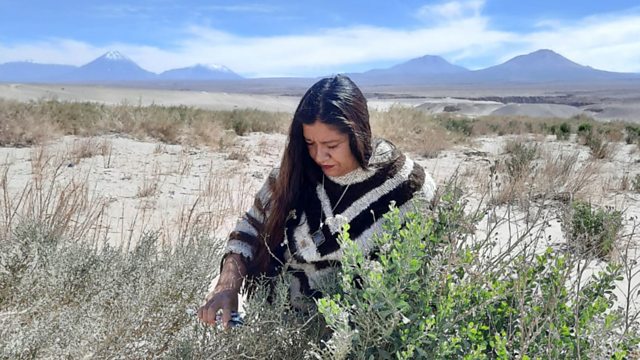 Tasting the desert with Chile's leading forager
The Atacama Desert may look like a forbidding landscape but for Patricia Pérez, an indigenous woman who grew up here, it's a treasure trove.
As a child Patricia Pérez would accompany her grandmother on incredible adventures in Chile's Atacama Desert. There they would search for unique herbs and plants by day and sleep in caves at night. Her grandmother would sell the herbs they found in markets and Patricia is now taking that tradition one step further. She started a company called La Atacameña and the herbs she forages are being used by five star hotels, a chocolate company and a restaurant that has been named one of the best in the world.
Someone else who really appreciates grandmothers is restaurateur Jody Scaravelli. He runs Enoteca Maria, a restaurant on New York's Staten Island where all the cooks are older women. He was inspired by his own grandmother, an Italian immigrant who was also a wonderful cook. Jody started out hiring only Italian women but now he has grandmothers from all over the world. Our reporter Tara Gadomski visited the restaurant in 2018, but during lockdown it's been forced to close. However, the staff are keeping busy handing out free soup once a week to healthcare workers.
We end our culinary tour in Berlin where Outlook's Jo Fidgen went to meet one of the world's top chefs in 2017. Tim Raue's road to the top has been less than smooth. As a child he says he was physically abused by his father, an experience that led him down a violent path. He ended up joining a street gang - an experience that he claims actually helped to prepare him for life working in a frantic professional kitchen.
With music from Inti-Illimani.
Any comments please email us on outlook@bbc.com
Picture: Patricia Pérez foraging
Credit: Isidora Pérez
Last on
Broadcasts
BBC World Service

except East and Southern Africa & West and Central Africa

BBC World Service

East and Southern Africa & West and Central Africa only