Main content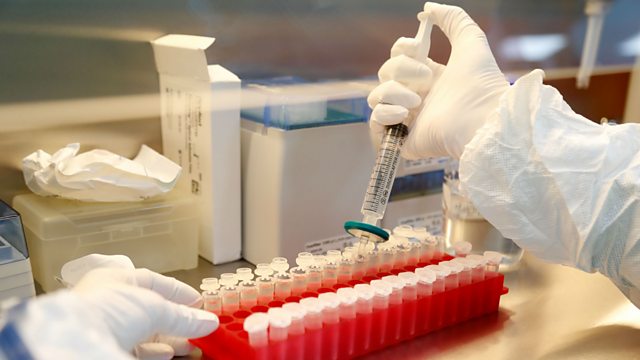 When will we get a Covid-19 vaccine?
The WHO warns of "vaccine nationalism" in the race for immunisation against the virus
Given the continuing high cost to societies of the coronavirus pandemic in lost lives and economic hardship, dozens of potential vaccines are being developed and tested at record pace. The top US infectious diseases expert, Dr Anthony Fauci, says it's unlikely but "not impossible" that a Covid-19 vaccine could win approval in October - an aim championed by President Trump. But there are growing concerns that the speed at which this is taking place may undercut public confidence in any vaccine produced. In the US, Democratic Vice Presidential nominee Kamala Harris says she "would not trust Donald Trump" as the sole arbiter of whether a vaccine was safe and reliable. But even if a Covid-19 vaccine is ready soon, the WHO has warned that "vaccine nationalism" - which would see richer countries buying up the bulk of supplies leaving developing nations wanting - could extend the pandemic and delay a return to global economic growth. So how quickly could a vaccine be produced and distributed? And which people in which countries will get access to it first? Dan Damon and a panel of expert guests ask - when will we get a Covid-19 vaccine?
Last on

Contributors
Dr. Maria Sundaram - Infectious disease epidemiologist at the ICES institute in Ontario, Canada

Dr. Shahid Jameel - Chief Executive of the alliance between the Wellcome Trust and the Indian government's Department of Biotechnology

Dr. Kate Broderick - Senior Vice President responsible for Research & Development at Inovio Pharmaceuticals in San Diego, California 

Dr. Chris Smith - Consultant virologist and lecturer at the University of Cambridge and presenter of 'The Naked Scientists' podcast
Also featuring: 
Dr. Tom Frieden - Director of the US Centers for Disease Control and Prevention (the CDC) from 2009 to 2017, now President and CEO of 'Resolve to Save Lives'
Photo
A scientist filters out samples during the research and development of a vaccine against the coronavirus disease (COVID-19) at a laboratory of BIOCAD biotechnology company in St Petersburg, Russia by REUTERS/Anton Vaganov/File Photo
Broadcasts

Featured in...
BBC programmes with updates, analysis and advice on the coronavirus pandemic