Main content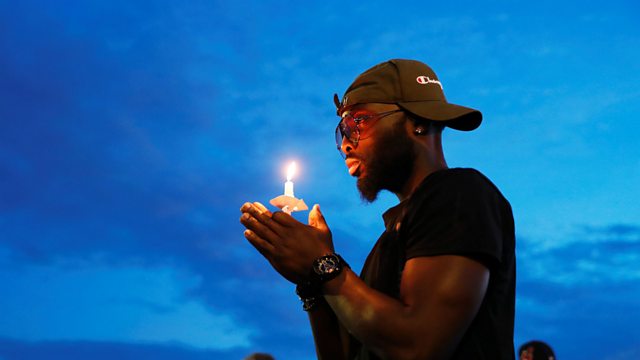 What should black Americans do next?
How do protesters turn anger over George Floyd's death into meaningful change?
The death of the African-American man, George Floyd, in police custody - and the subsequent protests and riots - will look familiar to anyone who's followed American history. This week also marked the 99th anniversary of an incident known as the 'Tulsa Race Massacre', in which a white mob killed hundreds of black people in a part of the Oklahoma city referred to as the 'Black Wall Street'. Decades later, Congress passed civil rights legislation, and in 2008 the United States elected its first black president - superficially, big steps. But since then there has been a wave of police killings of young black men. The anger expressed on the streets of more than 140 US cities this week demonstrates not enough has changed. Ritula Shah is joined by a cross-generational panel of black activists and academics to assess the way forward. Have the tactics used to change minds and laws after previous deaths in police custody had any success? What are the structural obstacles to black progress and how can they be dismantled? Given all the anger and false dawns, what should black Americans do next?
Last on

Contributors

Brea Baker - Racial and gender justice activist 
DeRay Mckesson - American civil rights activist and host of 'Pod Save the People'
Dr Leah Wright Rigueur - Associate Professor, Harvard Kennedy School of Government
Natalie Moore - Journalist, WBEZ in Chicago
Photo
A man holds a candle as he reacts at the scene of the death, in Minneapolis police custody, of George Floyd in Minneapolis, Minnesota by Reuters/Lucas Jackson
Broadcasts

Featured in...
The death of George Floyd has prompted debate and soul searching about racism