Main content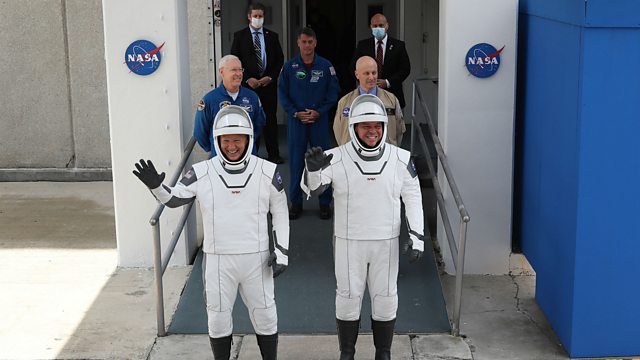 The privatisation of space travel
How is corporate capital changing our journey into the cosmos?
On Saturday a private company will attempt to deliver astronauts into orbit for the first time - with the launch of the SpaceX Crew Dragon mission to the International Space Station. Other big space projects planned by private companies include tourism, commercial space stations, a return to the Moon, habitats on Mars and even the mining of asteroids. National space agencies may partner with the private sector to reduce short-term costs and spread risks, but what will be the long-term impact of new technologies and intellectual property being by owned by companies and not states? What laws are in place to police what is and isn't allowed to be constructed in orbit? And as the United States, Europe, China, Japan and India all compete to pass new milestones in the exploration of our solar system, would a more collaborative approach be of greater value to humanity? Or is Cold War-like competition exactly what's needed to spark innovation? In the end, will the private sector dominate the future of Space?
Last on

Contributors
Charles Bolden - Former astronaut and NASA Administrator 2009-2017
Dr Jill Stuart - Academic, London School of Economics and Political Science 
Ariel Ekblaw - Founder and lead of the MIT Media Lab's Space Exploration Initiative
John Logsdon - Emeritus Professor at George Washington University and on the Board of Directors at the Planetary Society
Also featuring ...
Jeffrey Sonnenfeld - Senior Associate Dean for Leadership Studies at the Yale School of Management
Photo
NASA astronauts Bob Behnken (R) and Doug Hurley (L) walk out of the Operations and Checkout Building on their way to the SpaceX Falcon 9 rocket with the Crew Dragon spacecraft at the Kennedy Space Center on May 27, 2020 in Cape Canaveral, Florida by Joe Raedle/Getty Images
Broadcasts