Main content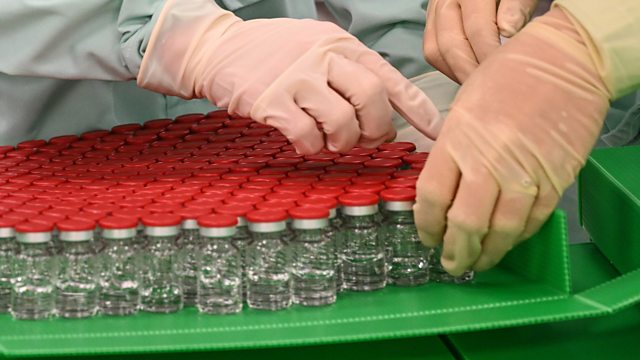 Another week, another Covid-19 vaccine success
Oxford-Astrazeneca vaccine; remdesivir; maternity services during lockdown; coronavirus rapid tests; childhood lead exposure affects brains in middle age; flu vaccines from plants
Oxford University and Astrazeneca announced interim results from the phase 3 trial of their coronavirus vaccine. The results are promising with efficacy scores ranging from 70% to possibly 90%, depending on the dose of the first of the two inoculations. This vaccine also remains viable when stored at refrigerator temperatures – a logistical advantage compared to the Pfizer and Moderna vaccines. Claudia consults Charlie Wheeler, head of vaccines at the Wellcome Trust, about how this vaccine may advance the ambition of protecting the world from Covid-19.
The pandemic has disrupted routine health services in many countries. Maternity services for pregnant women and women in labour have not escaped restrictions. In the UK this has included banning partners from clinics and wards, often for most of labour. Dr Samara Linton reports.
High levels of lead exposure in childhood result in smaller, less robust-looking brains in middle age. This is the conclusion of a long-running study of hundreds of people who grew up in the town of Dunedin in New Zealand. They have been followed since their childhoods in the early 1970s, during the era of leaded petrol. At the age of 45, more than 550 of them have had MRI brain scans. This part of the research has been led by Aaron Reuben and Maxwell Elliot at Duke University in the United States. Although leaded petrol is banned in all but one country today, hundreds of millions of children are still exposed to environmental lead levels well above what's regarded as safe.
Epidemiologist Matthew Fox of Boston University also joins Claudia to talk about the disappointing covid antiviral drug remdesivir, coronavirus rapid tests and a flu vaccine grown in plants.
Presenter: Claudia Hammond
Producer: Producer: Andrew Luck-Baker
(Picture: Laboratory technicians in Italy handle capped vials as part of filling and packaging tests for the large-scale production and supply of the University of Oxford's Covid-19 vaccine. Photo credit: Vincenzo Pinto/AFP/Getty Images.)
Last on
BBC World Service
East and Southern Africa & West and Central Africa only
Broadcasts
BBC World Service

Americas and the Caribbean, UK DAB/Freeview, News Internet, Europe and the Middle East & Online only

BBC World Service

Australasia, South Asia & East Asia only

BBC World Service

except Australasia, East Asia & South Asia

BBC World Service

Australasia & South Asia only

BBC World Service

East Asia

BBC World Service

East and Southern Africa & West and Central Africa only

BBC World Service

East and Southern Africa & West and Central Africa only