Main content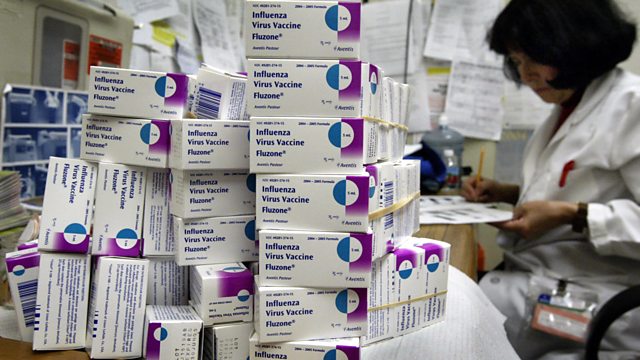 Double threat of Covid-19 and flu
Fears of a Covid-19 surge in the US this autumn have prompted increased orders for flu vaccines; Talking to a dying person; What online status indicators tell others about you
There's some progress of trials for potential Covid-19 vaccines – but doctors in the United States are also keen to avoid citizens getting infected with another virus: influenza. Manufacturers have been asked to make 10% more vaccines than last year because of a fear that a surge in coronavirus during the flu season could overwhelm hospitals. Dr Litjen Tan from the Immunization Action Coalition hopes that everyone will get the jab.
Many thousands of people have lost loved ones during the Covid-19 pandemic. Talking about dying is never easy and people sometimes regret what they didn't say. We hear from Janie Brown, a former nurse who now offers counselling to families affected by cancer, and has written a book Radical Acts of Love: how we find hope at the end of life, and from writer Audrey Nieswandt who looked after her mother when she was dying.
Do you mind if people know if you're online or not? Quite a few apps now indicate whether you're online or even if you've seen a message. Is it rude not to reply straight away? Camille Cobb from Carnegie Mellon University wonders whether people realise just how much information they are giving away about us.
Presenter: Claudia Hammond
Producer: Paula McGrath
(Picture: A nurse in Los Angeles with boxes of flu vaccine. (Photo credit: Lawrence K. Ho/Los Angeles Times/Getty Images.)
Last on

BBC World Service
East and Southern Africa & West and Central Africa only
Broadcasts
BBC World Service

except East and Southern Africa & West and Central Africa

BBC World Service

except East and Southern Africa & West and Central Africa

BBC World Service

East and Southern Africa & West and Central Africa only