Main content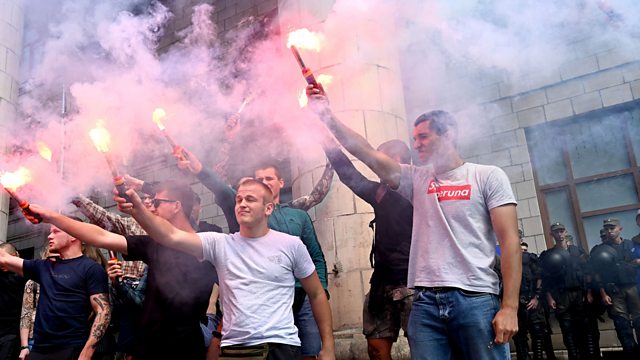 How geo-political forces are shaping the media landscape in Ukraine.
Former International Correspondent for CNBC and ITN Andrea Catherwood hears from journalists on both sides of the information war in Ukraine.
The war in Ukraine began in April 2014 after the country elected a pro-Western leadership and Moscow supported uprisings in Ukraine's Russian-speaking eastern provinces which culminated in Donetsk and Luhansk declaring themselves as breakaway independent 'republics'. From the beginning Russia's powerful propaganda machine played a crucial role in the conflict. Casting the government in Kiev as a fascist 'junta' it helped fan the flames of unrest that quickly grew into a full scale war, supported with men and weapons shipped in from Russia. Five years on, 13,000 people have been killed in the fighting, which despite international peace efforts still grinds on, and the propaganda war is as bitter as ever.
In the third programme of this series examining some of the big issues facing journalists around the world, Andrea Catherwood considers how media organisations maintain ethical standards in a such a polarised information environment. We head to the Ministry of Information Policy—the government department tasked with the job of protecting Ukraine's information space—to meet First Deputy Minister Emine Dzhaparova. Behind the frontline, in Russian speaking Luhansk and Donetsk, where Ukrainian television is blocked, a local journalist shares their perspective and experience.
In July this year Reporters Without Borders warned that the editorial independence of Ukraine's news media was under threat after 400 journalists resigned over concerns that their new boss was using censorship and media manipulation to try to bring Ukraine back into the area of Russian political influence. We hear the first hand account of one of those who resigned.
(Photo: Activists of Ukrainian far-rignt party National Corps demand closure of pro-Russian TV channels outside the State Commitee for Television and Radio Broadcasting for Ukraine in Kiev, 2019. Credit: Sergei Supinsky/AFP/Getty Images)