Main content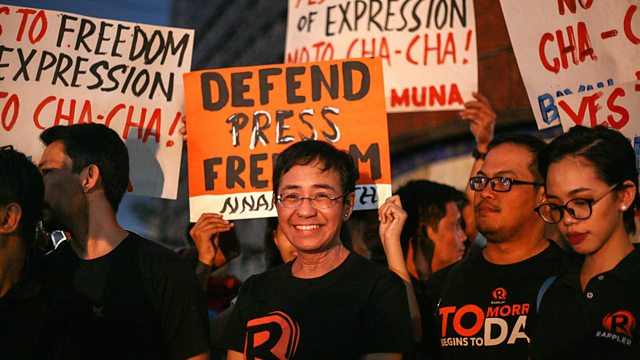 How journalists in the Philippines are fighting back against challenges to press freedom.
It has been three years since Philippines President Rodrigo Duterte won a landslide victory off the back of a promise to wipe out drug abuse. Since then thousands of people have been killed in his so called "war on drugs" and the president stands accused of personally spearheading an attack against critical voices in the media.
Former international correspondent Andrea Catherwood takes us to the frontline of the battle for press freedom in the country. She goes behind the scenes at Rappler, one of the countries most popular online news sites, to meet CEO Maria Ressa, who faces a lengthy prison term if convicted under libel law, in a case she claims is politically motivated. Ed Lingao, a television news anchorman and one of the most well known faces in the Philippines, shares his experience of being accused of being part of a plot to bring down the president. And with the country's biggest television network ABS-CBN awaiting congressional approval and presidential sign-off of its franchise renewal, press freedom advocate Melinda de Jesus considers the impact of President Duterte's public spat with the media giant.
Andrea is joined by Columbia Journalism School's Emily Bell and Richard Heydarian, Filipino political analyst and author of The Rise of Duterte: A Populist Revolt of Elite Democracy. Together they examine the allegations against the administration and the media and find out how journalists in the Philippines are adapting to the challenges and fighting back.
Producer: Emily Williams
Executive producer: Will Yates
(Photo: Filipina journalist Maria Ressa, CEO of online news outfit Rappler, participates in a protest by press and media groups calling for press freedom in Manila, Philippines. Credit: Getty Images)