Main content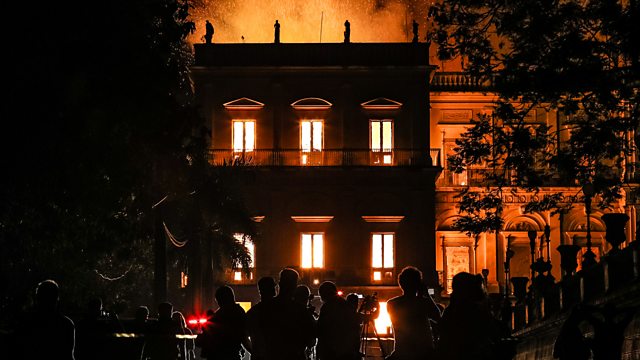 The fire that scorched Brazil's history
It's been a year since Brazil's National Museum burned down. The building and its precious archive of the past now lie in ruins but amongst the ashes there's a battle to revive it
It's been a year since Brazil's National Museum burned down in a fire. Not only was its collection one of the most extraordinary in the world, but Brazil's entire history ran through the museum. On the second floor you could meet the prehistoric skeleton that was the 'mother' of all Brazilians; on the third, listen to Amazonian folklore about exploding jaguars; and downstairs, slide into the slippers of a slave king. Now, the only intact artefact on site is a huge iron rock from outer space – the Bendego meteorite.
The National Museum and its precious archive of Brazil's past may be in ruins, but amongst the ashes there's a battle to revive it.
A longer version of this programme is available on the Documentary Podcast.
Presenter: Kanishk Tharoor
Producer: Maryam Maruf
With thanks to Roberta Fortuna
Contributors: Cahe Rodrigues, carnival director; Dom João, photographer and descendent of Brazil's last emperor; Laurentino Gomes, journalist and author; Monica Lima, historian; Mariza Carvalho Soares, historian and museum curator; Aparecida Vilaça, anthropologist and author of Paletó and Me; Tonico Benetiz, anthropologist; Murilo Bastos, bio-archaeologist; Luciana Carvalho, paleontologist and deputy director of rescue Museu Nacional; Sergio Azevedo, paleontologist and director of Museu Nacional's 3D printing lab
Voice over performances by: Fernando Duarte, Marco Silva, Silvia Salek; Thomas Pappon
(Photo: Brazil's National Museum – or Museu Nacional – on fire September, 2018. Credit: Getty Images)