Main content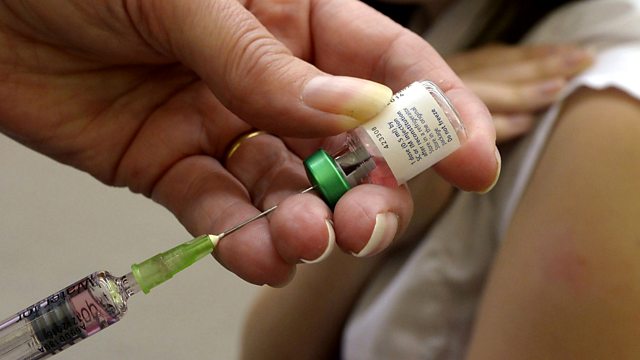 Vaccination: The global picture
Which psychological approaches can be used to persuade people to vaccinate their children against diseases like measles, which is seeing a resurgence across Europe and America?
This week the Wellcome Trust reveals how attitudes towards vaccinations vary around the world in its Global Monitor. Our guide through the figures is Heidi Larson, Professor of Anthropology, Risk and Decision Science at the London School of Hygiene and Tropical Medicine. She set up the Vaccines Confidence Project ten years ago.
The most vaccine-sceptical country is France – because of scares around vaccines. In neighbouring Germany one state has approved plans to make vaccinations compulsory because of low rates. But in Madagascar where more than 1200 children have died since last autumn from measles, parents walk for miles to have their children inoculated.
Paul Offit, a paediatrician from Philadelphia says that the success of vaccines has meant people have forgotten about the deaths and disabilities which used to result from measles – and parents are now influenced by scare stories about vaccines. More than half of the 1,000 recent cases of measles in the US have been in the Orthodox Jewish community in New York. We hear from some of the parents who still don't vaccinate.
Sander van der Linden is a psychologist in Cambridge, UK, who wants to "inoculate" people against the impact of fake news – so they can spot how they are being misled by anti-vaccination posts on social media.
Presenter: Claudia Hammond
Producer: Paula McGrath
Featured in...
Documentaries, debates and analysis from across the world