Main content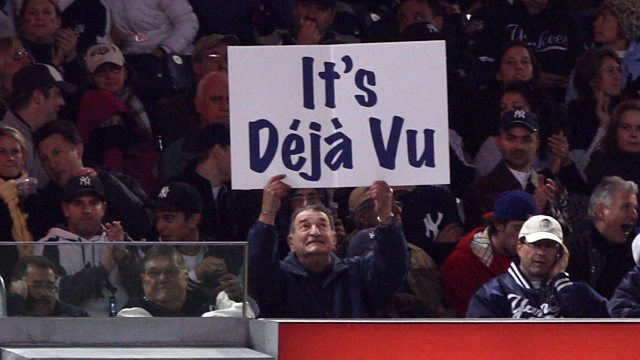 Why do we get déjà vu?
4/6 Two questions today for Rutherford and Fry. What is déjà vu and is anything really random.
4/6 Part 1: Déjà vu
"Do we know what causes déjà vu?" asks Floyd Kitchen from Queenstown in New Zealand.
Drs Rutherford and Fry investigate this familiar feeling by speaking to world-leading reseacher Chris Moulin from the University of Grenoble in France and memory expert Catherine Loveday from Westminster University. Plus, they find out why early investigations classed déjà vu as a type of paranormal phenomenon.
For most of us, it's a fleetingly strange experience, but for some people it can become a serious problem. Lisa from Hulme in Manchester started experiencing déjà vu when she was 22 with episodes that could last all day. The origin of her déjà vu has been the key to helping psychologists investigate its cause.
Part 2: Randomness
"Is anything truly random, or is everything predetermined?" asks Darren Spalding from Market Harborough.
Hannah and Adam go in search of random events, from dice throws to lava lamps. Can we predict the outcome of any event?
"How do computers manage to pick random numbers?" asks Jim Rennie from Mackinaw in Illinois. Random numbers are vital for things like cyber security and banking. But true randomness is surprisingly hard to produce, as the team discover.
Joining them for this case we have a random selection of experts: mathematician Colva Roney-Dougal, technology journalist Bill Thompson, Science Museum Curator Tilly Blyth and quantum physicist Jim AlKhalili.
Presenters: Hannah Fry, Adam Rutherford
Producer: Michelle Martin
Main Image: A fan of the New York Yankees holds up a sign which reads "It's Deja Vu" at the Yankee Stadium, New York City 29 Oct 2009. Credit: Jed Jacobsohn / Getty Images
Last on
Broadcasts
BBC World Service

except South Asia

BBC World Service

Online, UK DAB/Freeview, News Internet & Europe and the Middle East only

BBC World Service

Australasia, Americas and the Caribbean & South Asia only

BBC World Service

East and Southern Africa & East Asia only

BBC World Service

West and Central Africa

BBC World Service

Australasia

BBC World Service

South Asia
Featured in...
Scientific sleuths Adam Rutherford and Hannah Fry answer perplexing questions
The Curious Cases of Rutherford and Fry