Main content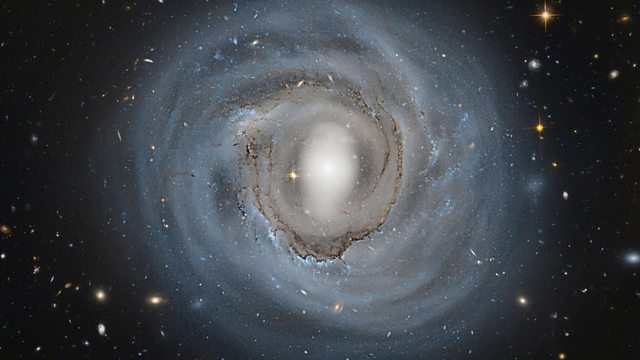 Will we ever find alien life?
3/6 Where are we looking for alien life and what are the chances of finding it? Rutherford & Fry hunt for ET.
3/6 In this instalment of The Curious Cases of Rutherford & Fry, Hannah and Adam boldly go in search of scientists who are hunting for ET, spurred on by questions sent in by listeners across the globe, from Australia to Columbia.
They start by asking how we define life and why we are obsessed with finding it on Mars. Should we be looking further out in the Solar System, and could we find space squid on the icy moon Europa?
When it comes to intelligent life we may have to scout even further into the Universe. But what are the chances of finding complex life in the cosmos? And where might it live?
Featuring astronomer Seth Shostak from the SETI Institute in California, planetary scientist Monica Grady from the Open University, exoplanet hunter Sara Rugheimer from the University of St Andrews and zoologist Matthew Cobb from Manchester University.
Send your Curious Cases for consideration in to curiouscases@bbc.co.uk
Presenters: Hannah Fry, Adam Rutherford
Producer: Michelle Martin.
Main Image: This image obtained from NASA on November 25, 2013 shows several images that were taken by the Hubble Space Telescope of the spiral NGC 4921 from the Coma Cluster of Galaxies. Copyright: NASA / Hubble / ESA / Handout
Last on
Broadcasts
BBC World Service

except South Asia

BBC World Service

Online, UK DAB/Freeview, Europe and the Middle East & News Internet only

BBC World Service

Australasia, Americas and the Caribbean & South Asia only

BBC World Service

East and Southern Africa & East Asia only

BBC World Service

West and Central Africa

BBC World Service

Australasia

BBC World Service

South Asia
Featured in...
Scientific sleuths Adam Rutherford and Hannah Fry answer perplexing questions
The Curious Cases of Rutherford and Fry