Main content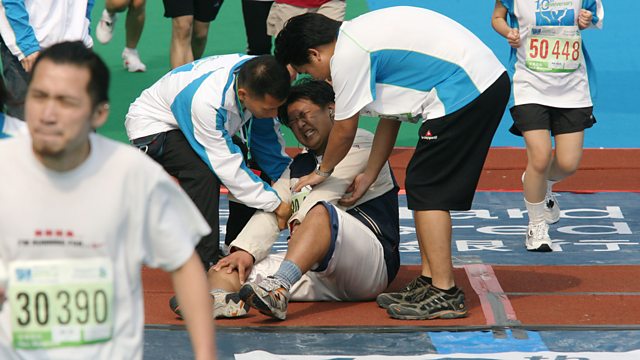 Why people have different pain thresholds
2/6 The biomechanics of running and why some people feel pain more than others.
2/6 "How fast can a human run and would we be faster as quadrapeds?" This question flew in via Twitter from Greg Jenner.
Is there a limit to human sprinting performance? In this episode we investigate the biomechanics of running, statistical trends in human performance and which kind of monkey runs the fastest.
But first, an experiment. Due to some spurious and possibly fictional injuries, neither Hannah nor Adam are fit enough to take part in a sprint trial at the University of Bath. So long-suffering Producer Michelle steps up to the challenge and into the starting blocks. Not known for her love of athletics, or exercise of any sort, how will she fair in the ultimate speed test?
Biomechanist Peter Weyand from Texas discusses the role of different muscle types in speed versus endurance. Sports scientist Polly McGuigan reveals why Usain Lightning Bolt is still the fastest man in the world. And Prof of Sports Engineering Steve Haake reveals how fast a man can run like a monkey.
"Why do people experience pain differently when they go through the same event?" asks Claire Jenkins from Cwmbran in Wales.
Professor of Pain Research, Irene Tracey, welcomes Adam in to the room she calls her 'Torture Chamber'. Burning, electrocuting, lasering and piercing are all on the menu, but which will hurt the most?
Hannah speaks to Steve Pete from Washington who has a rare genetic condition which means he does not feel pain. For chronic sufferers, this sounds like heaven, but a life without pain has brought untold suffering to him and his family, including the tragic story of his brother, Chris.
We look at how the body creates pain, why some people feel it more than others, and how this knowledge could help scientists treat pain more effectively in the future.
Presenters: Hannah Fry, Adam Rutherford
Producer: Michelle Martin
(Photo: A runner beats the pain to make it over the finishing line in the Hong Kong Marathon 12 February 2006. Credit: Martin Chan/South China Morning Post/Getty Images)
Last on
BBC World Service
South Asia
Broadcasts
BBC World Service

except South Asia

BBC World Service

Online, News Internet, UK DAB/Freeview & Europe and the Middle East only

BBC World Service

Australasia, Americas and the Caribbean & South Asia only

BBC World Service

East and Southern Africa & East Asia only

BBC World Service

West and Central Africa

BBC World Service

Australasia

BBC World Service

South Asia
Featured in...
Scientific sleuths Adam Rutherford and Hannah Fry answer perplexing questions
The Curious Cases of Rutherford and Fry