Main content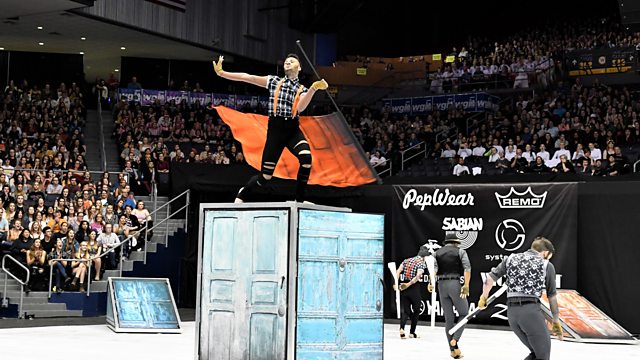 Marching to the coolest beat
Students throw sabers and rifles in the American Sport of the Arts.
An unlikely pageant takes place every year in the American Rust Belt town of Dayton Ohio. Three hundred teams of high school and college students have made it to the finals of a national competition. In a giant sports arena, they throw, spin, and twirl flags, sabers and wooden rifles.
The activity known as the Colour Guard originated with the guard holding the flag marching in front of an army. Football teams then incorporated it into their half time routines. Now it's developed into its own sophisticated, highly skilled and emotionally evocative art form, that takes place indoors during the winter. Known as Winter Guard or Sport of the Arts, it requires risk, skill, attentive teamwork, dramatic storylines and soundtracks.
The subjects of performances this year at Dayton ranged from the death of a pet to tornados to women in rock music history to bullying. Each group has about seven minutes to impress the judges. Props included a 1950's car, ladders, a pool of flowers, animal masks and a replica of prison cell.
The competitors have practiced for six months. Many travel across America in buses. Most come from small towns and the activity isn't well funded by schools. Yet these young people insist that this is the high point of their lives.
Body shape gender, racial or sexual identity isn't an issue. They are pushing this grass roots, quintessentially American activity, to its limits. The packed arena cheers each breathtaking feat.
Presenter/Producer: Judith Kampfner
(Photo: Pride of Cincinnati perform their show Another Door Opens at the Winter Guard 2019 pageant. Credit: Sid and Linda Unser/WGI)
Last on
BBC World Service
East and Southern Africa & West and Central Africa only
Broadcasts
BBC World Service

except East and Southern Africa & West and Central Africa

BBC World Service

except East and Southern Africa & West and Central Africa

BBC World Service

East and Southern Africa & West and Central Africa only