Main content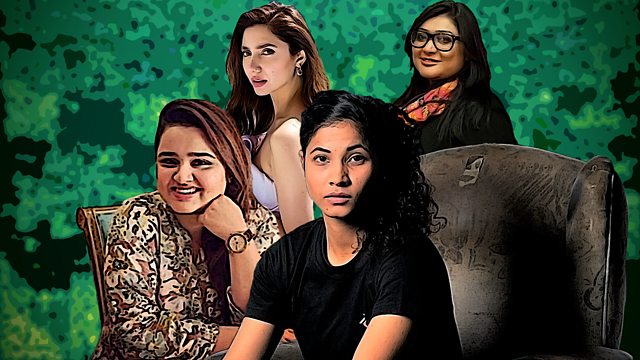 The Conversation in Karachi
What's on the minds of women in Pakistan right now?
How do you tackle cyber bullying? Do feminists hate men? And what has #MeToo done for Pakistan? These are just some of the questions tackled by the all-female panel brought together for this special edition of The Conversation, recorded in front of an audience of Karachi University Students from the Institute of Business Administration.
Pakistan is placed second to last in the latest Global Gender Gap Index, beaten only by war-ravaged Yemen, and yet it has also voted in a female Prime Minister, had female generals within the armed forces and a strong feminist movement ever since its birth in 1947. Many of the issues women face here are the same as those faced by women across the world but the stakes can be very high. How a woman behaves in public can, in extreme cases, be a matter of life or death.
On the panel are:
Faiza Saleem – pioneering comedian and founder of the first female stand-up group in the country
Hajra Khan – The first Pakistani, male or female, to have been signed by a foreign football club and captain of the women's national football team
Mahira Khan – Pakistan's biggest female film star the award winning actress
Nighat Dad - set-up Pakistan's first cyber bullying helpline and lawyer involved in Pakistan's first #MeToo case
Presented by Kim Chakanetsa and produced by Andrea Kennedy
Image: Faiza Saleem, Mahira Khan, Hajra Khan and Nighat Dad (L-R)
Credit: Faiza Saleem, Huma Akram, Shakeel Bin Afzal and Nighat Dad (L-R)
Last on

Clips

Broadcasts