Main content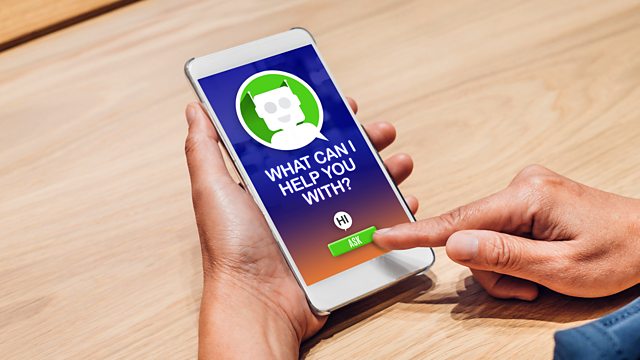 It's claimed that some computers can now pass the Turing test: convincing people that they are human. Tim Harford asks how important that distinction is, and what it means for the future of human interaction.
Last on
BBC World Service
South Asia
Sources
Robert Epstein "From Russia, with Love. How I got fooled (and somewhat humiliated) by a computer" Scientific American Mind 17
A. M. Turing "Computing Machinery and Intelligence"  Mind 1950
Elizabeth Lopatto "The AI That Wasn't" The Daily Beast 10 June 2014
Brian Christian "The Samantha Test" The New Yorker 30 December 2013
Kenneth M Colby, James B Watt and John P Gilbert "A Computer Method for Psychotherapy: Preliminary Communication" Journal of Nervous and Mental Diseases 142 No 2 (1966)
Erin Brodwin "I spent 2 weeks texting a bot about my anxiety" Business Insider 30 Jan 2018
Dillon Browne, Meredith Arthur and Miriam Slozberg "Do Mental Health Chatbots Work?" Healthline
Chris Baraniuk "How Talking Machines are Taking Call Centre Jobs" BBC News 24 August 2018
Alastair Sharp, Allison Martell "Infidelity website Ashley Madison facing FTC probe, CEO Apologizes" Reuters 5 July 2016
Brian Christian The Most Human Human New York: Doubleday 2011
John Markoff "Automated Pro-Trump Bots Overwhelmed Pro-Clinton Messages, Researchers Say" New York Times 17 November 2016
Adam Smth The Wealth of Nations 1776
David Autor "Why Are There So Many Jobs? The History and Future of Workplace Automation" Journal of Economic Perspectives - Volume 29, Number 3 - Summer 2015
Deters, F.G & Mehl, M. R. (2012) Does Posting Facebook Status Updates Increase or Decrease Loneliness? An Online Social Networking Experiment. Social psychological and personality science, 4(5), 10.1177/1948550612469233. 
Broadcasts
BBC World Service

except East and Southern Africa & South Asia

BBC World Service

News Internet

BBC World Service

except Americas and the Caribbean, East Asia & South Asia

BBC World Service

except East and Southern Africa & West and Central Africa

BBC World Service

East and Southern Africa & West and Central Africa only

BBC World Service

South Asia
Podcast
The stories of inventions, ideas and innovations which helped create the economic world