Main content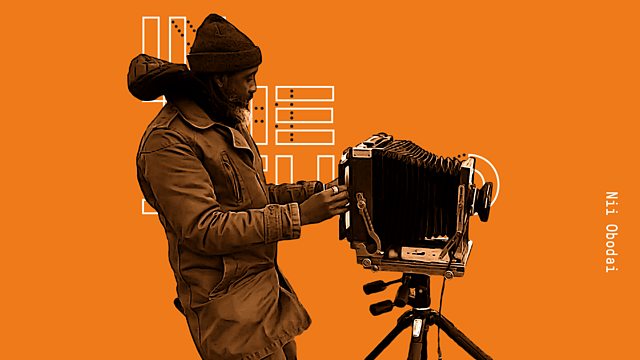 Nii Obodai: Finding the image
We follow the acclaimed Ghanaian photographer Nii Obodai as he prepares for a new exhibition in England using camera techniques of the past.
The acclaimed Ghanaian photographer Nii Obodai is renowned for his distinctive black and white hazy silhouettes of distant landscapes and his stark compassionate portraits. As a youngster he spent time in England and now he's back as artist-in-residence in the East Riding of Yorkshire, where he's working on a new exhibition on environmental themes.
Nii is spending time in the marshes and woodland of the nearby nature reserve, photographing wildlife and the people who tend the landscape. But he's not using the latest digital camera to take his pictures – instead he's interweaving the techniques of the past by learning to photograph with an old-fashioned large format Deardorff camera, shooting in black and white and making prints. The work is based on techniques used by one of the founding fathers of British photography, William Henry Fox Talbot.
Felicity Finch joins Nii as he explores the marshlands and prepares to take his pictures which will be displayed in the Beverley Art Gallery. She follows him through the process – which can take hours - of waiting for the birds to come into shot, pressing the shutter and reloading the films. She also watches as he takes portraits of the workers at the reservoir.
Later in the seaside town of Scarborough we hear how Nii develops the films in the total darkness of an ad hoc darkroom and uses the traditional method of salt printing to create images in a variety of monochrome tones of rich earthy browns. It's a learning process for Nii and while most of the images turn out the way he wants, others are less successful. We hear how he begins to make his final selections and how he is influenced by the potency of memory and landscape.
Presented by Felicity Finch
Produced by Felicity Finch and Emma Kingsley for the BBC World Service
(Photo: Nii Obodai behind his Deardorff camera, photo by David Chalmers)
Nii's exhibition, 'Of Natural Magic' is part of 'Surroundings', a three-year partnership project between Humber Museums Partnership and the arts organisation Invisible Dust.